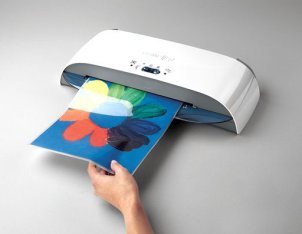 Things You Need:
A sign or something else to laminate
A laminating machine or hand-laminating tools
Every so often, a laminated sign may be the perfect solution to what you're looking for. Lamination will help keep items from getting damaged by water, smudges, finger prints, tearing or a host of other damages. Lamination also has the advantage of bringing out the color and contrast in an item. Lamination can help preserve an item, such as a flyer or a scrapbook sign, for a longer period of time. Perhaps you want to advertise a yard sale, create a "For Sale" sign, make a school project or create a sturdy flyer to hand out. Scrapbooking enthusiasts often use laminators to create sturdy entries for their scrapbooks. No matter what you're looking to laminate, you'll want to have the right tools for the job. While large jobs may call for the assistance of a business that specializes in making signs, smaller lamination projects can be handled on your own if you have the right equipment.
Laminating by hand:

Use self-laminating supplies. These supplies do not require the investment of a laminating machine nor do they require a heat source, making them a nice choice for when you're doing crafts with young children.

Using self-laminating supplies is generally very easy. You simply "peel and seal."
Laminating with a machine:

A laminating machine is faster and more automated than manual lamination, making it a great choice for larger lamination tasks. There are two common types of lamination machines: pouch laminating machines and roll laminating machines.
Pouch laminating machines are generally the less expensive option as well as easier to use. When you use a pouch laminator, a lamination pouch is fixed to one side of the laminator; then heat is used to make the film on the inside of the pouch adhere to the item being laminated.

Roll laminating machines, on the other hand, are used for larger and more complex projects. They are available in many different sizes and may include any number of different features, although the cost of roll laminating machines often makes them more suited towards business use.
Tip:

Remember, if you want to laminate a sign or anything else, there are a number of ways to get it done. The choice of how you will laminate depends on your budget and on the time that you want to spend performing the laminating. Of course, if you do it yourself, you will have the satisfaction of knowing that you did it on your own, quite possibly saving money in the process.

Buy Laminators
Back to Guides Directory