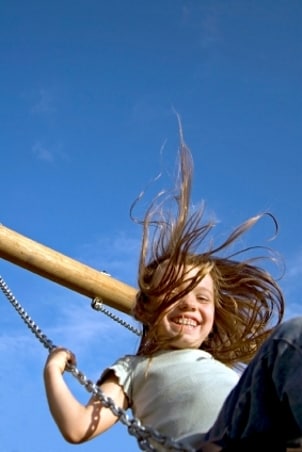 Things You Need:
Manufacturer's instructions
Wrenches or socket set
A second person
Almost all children love to play on swing sets. Fortunately, it is fairly easy to install a swing set in your back yard. And having a playset in your own back yard not only lets your kids have fun, but it also keeps them close to home so you can know they are safe.
Swing Set Installation:

Pick a location. Where you place your outdoor swing set is very important for safety. You want the swing set to be in an open space so if a child jumps or falls out of the swing, they won't hit anything. You will also want your swing set sitting on fairly level ground.

Lay out all the pieces. You will want to lay out all the pieces of your playset and make sure you have all the pieces that the instructions say you should have. To make the process easier, make piles of like pieces so you know where to find them when you need them. You may want to lay out a tarp to keep smaller pieces from getting lost in the grass.

Start putting the pieces together. It might seem a little intimidating with all the big pieces that come in a swing set, but those big pieces make the assembly go quickly, so long as you have another person to help you hold them when you're bolting them together. The manufacturer instructions should tell you the proper order for assembly, but if you have lost the instructions, remember that, typically, the basic frame goes together first, followed by the bells and whistles. Adjust the height of the swings to fit your children.
Swing Set Safety Tips:

A foot-deep bed of mulch surrounding your outdoor swing set will greatly improve the safety for kids who might jump or fall off the swing set.

All swing sets, especially lightweight, aluminum swing sets, can benefit from being anchored to the ground. Steel anchors can be attached to concrete footings for a very secure base.

Buy Swing Sets
Back to Guides Directory