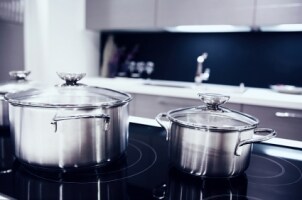 Whether you purchase an updated electric oven range to replace an older, worn-out model or to simply enhance the look of your kitchen, installing an electric oven range is a fairly simple task that you can complete in just a couple of hours. As long as you are just swapping a similar range and oven, there is no need to pay extra money for professional installation.
Installing an Electric Range:

Unwrap and inspect. Remove the protective wrapping from the new electric range. Look carefully for any plastic liners or film on glass windows, ceramic surfaces or beneath burners. Inspect the range for any scratches, dents or damage.

Turn off the electricity. Switch off the electric circuit for the outlet behind the old range.

Remove the old range. To remove the old range, slide it out from the wall until you can unplug the cord. Unplug the old electric range and move it out of the kitchen. To make your old stove easier to move and to prevent scratching the kitchen floor, place felt furniture pads underneath each leg of the stove before sliding it out of the kitchen.

Position and plug in. Line up the new oven range in front of the electrical outlet where the old range was and plug the electrical cord into the outlet.

Install the new oven range. Slide the range carefully into the space, being careful not to scratch or mar the kitchen floor. Most new stoves have rounded feet, so gently sliding or walking the stove backwards is adequate to ensure the floor is protected. For extra protection, you can use felt furniture pads under the feet of the range to protect your floor.

Make it level. Place a leveling device on a flat surface on top of the oven. Adjust the legs of the oven until the bubble in the liquid within the level rests in the middle, no matter where it is on the range.

Turn on, test and set. Switch the electricity back on, test the oven and set the clock.

Buy Ranges and Ovens
Back to Guides Directory