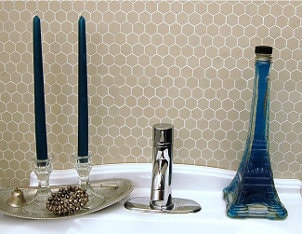 Things You Need:
Notched trowel
Rubber grouting float
Tile and grout sealer
Make your next home-improvement project a tile backsplash for your kitchen, bathroom, or any room in your house. A tile backsplash is an inexpensive project that improves the look of the room as well as incorporates new design elements. Use a tile backsplash of mosaic tiles to enhance the color of cabinets, paint, or countertops in the kitchen. You can also use it as an accent color to contrast with the palette in your bathroom. Installing your new backsplash is easy, do it yourself by following these simple steps.
Installing a Tile Backsplash:

Choose your tile. You'll want to use a durable tile, such as ceramic. If you want a simple alternative to hand-tiling a backsplash, consider using tiles held together with a mesh backing. These are often small mosaic tiles. Mosaic tiles with mesh backing come together with a variation of complementary colors that are prearranged on the mesh for you. This allows you to have contrast between backsplash tiles without applying each one individually. If you choose to apply each tile separately, choose sizes and colors that will be easy to arrange in a complementary pattern.

Decide on a pattern for your tile backsplash. Always lay your tiles out on the floor or a table before applying them to the wall. This will also show you which pieces will need trimming to fit the wall space. If you are using mesh-backed tiles, you will trim excess tiles off and use them for small spaces or gaps.

Prepare your wall surface. Prepare the space where you plan to install your tile backsplash. Make sure the wall is free from cracks or holes to ensure an even and secure application. Repair any defects in the wall with some drywall mud and smooth out with sandpaper to prepare the space for tiling.

Trim any necessary tiles with a wet saw. Wear protective goggles at all times while operating any power tools. Unless your tiles fit your wall space perfectly, you will need to trim a few to make your tile backsplash pattern level and to fit around the edges of the wall or backsplash area. A wet saw cuts tile while being sprayed with water to keep the blade at a cool temperature, which would otherwise create heat or sparking due to friction between the blade and tile. File down any jagged edges with a smoothing carborundum stone.

Apply tile mortar to the wall. Use a notched trowel to apply the mortar to tile surface. The larger the backsplash tile, the larger the notches in the trowel should be. Spread mortar on the wall with the flat side of the trowel, and then go back over this surface with the notched side of the trowel held at a 45-degree angle to the wall. You'll typically need to place the backsplash tiles within 15 minutes of applying the mortar, or it will dry. It's best to apply mortar and tile one section at a time. Check the drying times on your mortar package for more details.

Apply your tiles. If you are using tile mesh sheets, simply apply them according to your tile backsplash pattern. Otherwise, following the pattern you practiced earlier, set the tiles, starting at the bottom row and working your way up the wall. Use rubber tile spacers as a guide to set each backsplash tile.

Allow the tiles to dry before grouting. Mix a batch of tile grout according to package directions and use a rubber grouting float to apply the grout to the backsplash tiles. Spread the grout over an area of tile, and then bend the float to a 45-degree angle to remove excess grout from the tile surface. Wait approximately 15 minutes for the grout to set, and then wipe off any excess residue from the tile surface with a clean, damp cloth or sponge.

Apply sealer to your tile backsplash. Once it has dried, apply a tile and grout sealer to your tile backsplash to protect against moisture, especially near a sink.
What Do You Want to Do Next?

Shop Backsplash Tile
Shop Decorative Tile
Shop All Tile
See All Guides
Read More Home Improvement Guides
Learn More about Wall Coverings