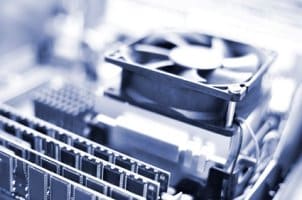 Things You Need:
Computer cooling fan
Computer
Screwdriver
Computers that overheat can crash frequently, causing a loss of data and important files, but there are case accessories to help prevent this. Typically, a CPU cooling fan will be mounted to your computer case, bringing air into the case to cool computer components. If you're existing cooling fan breaks or if it just isn't keeping the interior of your computer cool enough, you may need a new computer cooling fan. Here are a few easy steps for installing one.
Instructions:

Purchase a cooling fan that fits your computer case. You may want to open the computer case and take a few notes about your computer cooling fan's size and position. Most computer cooling fans are mounted to the case with screws. Unless you want to drill new holes in the computer case, you will need a cooling fan of the same size.

Design an airflow diagram for your computer. Is it blowing air out or pulling it in? Do you have more than one cooling fan? If you have multiple computer fans, one should be blowing air in and the other should be blowing air out. Draw a diagram of your computer case and how air is flowing through it. If the airflow is poor, you may want to think of a different placement for your computer cooling fan that would improve cooling.

Prepare your computer. If possible, work on your computer in a non-carpeted area to reduce static electricity. Unplug the computer's power cord and all peripheral connections. Open the computer cover. When the cover is open, avoid touching computer components. Ground the static electricity from your body by touching an unpainted metal surface or the computer case itself.

Remove the old cooling fan. Unplug the power supply from the motherboard and remember where the cord was plugged in. Some cooling fans are mounted with screws, and others are mounted with clips. Carefully remove the old computer cooling fan from the case and set it aside.

Install and test the new cooling fan. Plug the new computer fan's power supply into the same port that the old computer cooling fan used. To test the computer fan, plug the computer back in and turn it on. The cooling fan should start spinning. Turn the computer off and unplug it again. Finish mounting the computer cooling fan to the computer case and replace the cover. Your new computer cooling fan is now installed.
Tips:

Cooling fans often come with interesting features. Look for computer fans with silent running modes and LED lights to make your computer case high performance.

Always use caution when working on electronics. Follow all safety instructions and use appropriate safety equipment.

View All Case Accessories
Back to Guides Directory