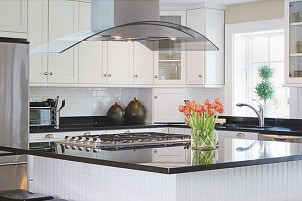 Things You Need:
Bubble level
Adjustable wrench
Screwdriver
As long as your new gas oven range is similar in size and configuration to your old gas oven range, installation is a relatively easy do-it-yourself project. If your new gas range and oven differs significantly from your old one, you might consider hiring a professional to do the installation for you. Always follow the manufacturer's installation instructions that come with your new kitchen appliance.
Installing a Gas Oven Range:

Start with safety. Turn off the main gas line and the appropriate electrical circuit (if applicable).

Remove the old stove. Slide the old oven range out from the wall until you can unscrew the gas line and unplug the electrical cord. As long as you turn off the main gas line, unscrewing the gas is as simple as loosening the connector with a wrench, just as you would undo a water hose.

Position the new oven. Line up your new gas oven range in front of the connectors and carefully slide it back until the gas connections are close enough to reach their counterparts.

Connect and plug in. Plug the electrical cord into the outlet. Screw the gas connector onto the gas supply line. Tighten with a wrench, and then turn on the gas at the main line.

Check for leaks. Brush liquid detergent onto the gas line connectors to check for leaks. If bubbles appear, there is a leak. If you have a leak, turn the gas off and ventilate the room by turning on a fan and opening a window for several minutes. Tighten the connection again and continue to test until no bubbles appear.

Slide the oven into place. Slide the oven range completely into the space, leaving the recommended clearance, as outlined in the manufacturer's directions, behind the oven.

Make it level. Adjust the oven legs by turning each one with your fingers until a bubble-style level placed on top of the unit is balanced. Turn the electricity back on, light the pilot and test the oven.
Gas Oven Warning:

For safety reasons, consider installing an anti-tipping bracket to secure the gas oven to the wall.

Buy Ranges and Ovens
Back to Guides Directory