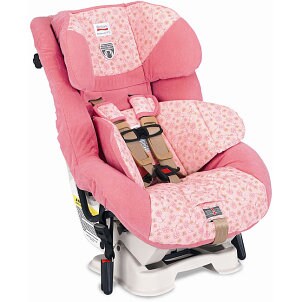 Things You Need:
Car seat
Base unit (for rear-racing car seats)
Did you know that more than 80 percent of car seats are installed incorrectly? An incorrectly installed car seat could be a fatal mistake. Keep your child safe: Make sure your car seat is properly installed using the following tips and guidelines.
Installing a Car Seat:

Choose the right car seat. Follow age and weight limitations listed with the car seat.

Follow the directions. Read and follow the instructions and owner's manual for both the car seat and your vehicle. A rear-facing infant seat has different installation requirements than a front-facing toddler seat.

Install it in the back seat. The safest place for your child is the back seat. Always install your car seat in the back seat, never in the front seat.
Installing a LATCH car seat:

New car seats and cars that were manufactured after September 2002 come with an interactive installation system called LATCH (Lower Anchors and Tethers for Children). If you're not sure whether your car has the LATCH system, check your car for anchors; these are metal hooks in the back seat of your car. If you have an older car, you will need to use a lap belt to secure the car seat.
Remove the LATCH connectors from the car seat base. They can usually be found tucked inside the base unit or in the back of a forward-facing car seat.

The car seat should fit snuggly in the backseat. To get the proper fit, place your knee in the middle of the base unit or car seat and push down to ensure it is extremely snug.

Click the LATCH connectors -- there is one on each side -- to the anchor inside your car. The LATCH connector looks like a mini seat belt and will be connected in much of the same manner.

Some car seats will have a tether that is used to prevent the top of the car seat from moving. Unravel the tether cord from the car seat and attach it to the tether point in the vehicle.

Once the car seat is installed, try moving it around. If it moves more than an inch, you need to try again. The car seat shouldn't move once it's installed.
Installing a car seat with a seat belt:

Thread the belt through the correct slots (these should be labeled on the car seat base) and join the female and male ends.

Check to see if your seatbelt has a locking mechanism. If not, it's a good idea to buy a locking clip.
Warnings:

If you are unsure whether your car seat is installed correctly, check if your area offers a Certified Child Seat Inspection Station.

Buy Car Seats
Back to Guides Directory