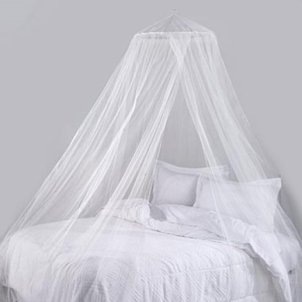 Things You Need:
Canopy
Stud finder
Screws
Drywall anchor(s) (optional)
Hook(s)
Screwdriver or drill
Canopy accessories (optional)
Nothing adds an elegant touch to bedrooms like canopies. These beautiful bedding accessories bring a sense of serenity and opulence to any bedroom, and learning how to install a bed canopy is actually quite simple. Below you'll find tips that will help you set up a prettier bed in just a few hours.
Installing a Bed Canopy:

Choose a canopy. Find a bed canopy in a color that complements your bedroom decor. Canopies are produced in a wide variety of fabrics. For a traditional look, silk and velvet are popular, but for something light and airy, think about a lightweight linen or mesh. You can also choose between ceiling bed canopies that attach in one spot or in four.

Decide where you want to hang your canopy. If you chose a hoop canopy that attaches in one spot, you'll probably want to hang it over the head of the bed. If you chose a four-corner ceiling canopy, center it over your bed to allow for a cascading canopy in all directions.

Install the hooks. Use a stud-finder to find the studs in your ceiling. Since ceiling bed canopies hang above your head, it's important to make sure they are secure in the ceiling. Drill a small hole in the spot over your bed where you want to hang your canopy. For extra support, screw the hooks into drywall anchors.

Attach the canopy. Attach the fabric to the hooks and adjust it so that the canopy is appealing to the eye. You may want to recruit someone to help you; that way, they can hold up the ceiling canopy to adjust it while you decide where it looks best.

Add flourishes. Once your canopy is installed, consider giving it some flair with notions and embellishments. Specialty bedding for canopy beds is available to complement the design of your new home decor addition. It's your bed; make it the stuff of your dreams.

Buy Canopies
Back to Guides Directory