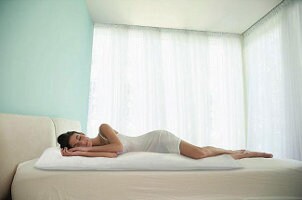 If your sleeping situation is lacking in comfort, consider using body pillows. Body pillows not only make your bed a more appealing place to rest, but they can increase comfort in other areas of your home as well. Besides providing whole-body support, body pillows can serve different functions when used in other areas of the home. Take a look at the article below to learn how to increase comfort with body pillows.
Comfort with Body Pillows:

Think about beds. Naturally, you'll want to take a look at the comfort levels of the beds in your home when first thinking about body pillows. Body pillows are manufactured in a variety of sizes and shapes, so they can work on almost any type of bed. If you're looking for a kid's body pillow for kids' beds, consider shorter, skinnier pillows that will fit twin beds. If you have a larger bed, such as a queen or king, think about getting two larger, more robust pillows or a pillow big enough for two to share.

Outfit beds. Once you've found the right size of body pillows, it's time to outfit your beds. Body pillows can be placed in a variety of places. Place a body pillow cover over each pillow and prop one up against your headboard when you need a decorative pillow backdrop. For day beds, a body pillow is the perfect solution when you want to your bed into a couch by day and a place to slumber by night. You can also place body pillows underneath beds, which gives sleepers the option of using them only when needed and stowing them away the rest of the time.

Think about other places. Beds aren't the only possible home for body pillows. These cozy pieces of bedding can work well on sofas, sleeper beds and even the floor space in front of your television. Any place in your house that could use a bit of extra comfort could be the perfect place for a new bed pillow. Body pillow covers help you discreetly decorate with comfortable body pillows and match your home decor flawlessly.

Buy Pillows
Back to Guides Directory