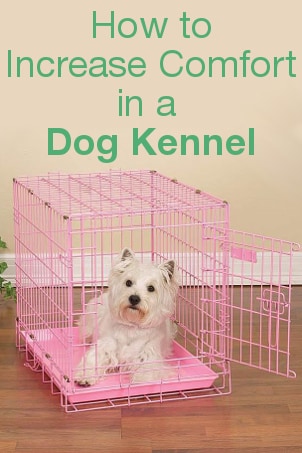 SHOP CRATES & KENNELS NOW >>
Dogs deserve to live, rest, and sleep in comfort. If your dog spends any time in a crate or kennel you'll want to make it a welcoming place of total comfort for your pooch. You can do a number of things to make sure your dog kennel is something any canine would be happy to call home.
Increase Dog Kennel Comfort:

Clean it up. A dirty dog kennel is no fun for anyone -- especially your dog. The first step you should take in increasing the comfort of your dog kennel is to make sure it's clean. The cleaning job you will have to accomplish will vary by the size and material of your dog kennel. You may just need to wipe it down with a damp towel, but you might need to take it outside and spray it out with a hose. Once you have a clean and dry kennel, do a weekly checkup to make sure it stays clean. Many crates have a tray that you can remove from the bottom to make it easy to clean out. Never leave your dog in the kennel so long that he'll have to go to the bathroom in there.

Make sure it's the right size for your dog. If the crate or kennel is the wrong size, it will never be comfortable, no matter what you add to it. It should be at least 4 inches tall and longer than your dog, and he should be able to stand, sit, and turn around in it. For more information, be sure to read our guide on choosing the right dog kennel size.

Add bedding. When you want to increase comfort in your own bed, you buy new bedding. The same trick can work for a dog kennel. Get your best friend's kennel a crate bed or kennel mat. These are special dog beds that are shaped to fit into kennels easily. You can even find orthopedic pet beds made to go in kennels, perfect for an older dog or a dog with joint problems. If you don't want to buy new bedding for a dog kennel, look around the house for old blankets and soft bath towels. Your dog won't mind what they look like as long as they provide comfort and warmth.

Choose the best location. Often, increasing comfort in a dog kennel is as much about where it is as what's in it. Make sure you place your dog kennel in a warm, well-ventilated area to keep your pooch feeling great. Remember that he's a social animal; his kennel shouldn't be placed somewhere where he would feel isolated and sad. Leaving a dog kennel in a cold, damp basement won't just make him uncomfortable; it may make him unhealthy, too. Find a place in your home that both you and your pet are comfortable with. You may want to have the kennel in your bedroom, the kitchen, or the living room.

Rotate toys in the kennel. A few dog toys in the kennel will make time spent in there more enjoyable for your dog. Switch out the toys every day or two to make them seem new an interesting. If he has one favorite stuffed toy that he needs to have near him to sleep well, be sure to always leave that in the kennel.

Shop Crates
Shop Kennels & Pens
Shop All Crates & Kennels
See All Guides
Read More Pet Guides
Learn More about Pet Gear & Supplies