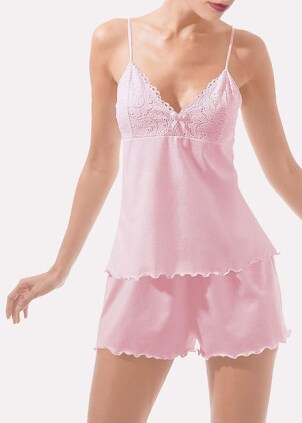 If you're coming up with ideas for Valentine's Day gifts, you may be considering buying underwear for that special someone in your life. Intimates are a romantic Valentine's gift for men or women. Whether you're going for sultry lingerie for her or a comfortable robe and boxer short set for him, the following tips can help you find the perfect gift.
Lingerie Gifts for Her:

Consider her tastes: Before you buy lingerie for the lady in your life, consider her tastes. If she likes soft, casual clothes, a cute pair of heart-print boy shorts and a camisole might be the right intimates for her this Valentine's. If she likes looking pretty and feminine, a lacy baby doll would be perfect. For the woman who likes to feel sexy, you can't go wrong with a matching lace bra and thong. Knowing what she likes in her everyday clothing will help you find the right lingerie gift for her.

Know her size: The key to finding the right intimates to give your valentine is knowing her size. Many lingerie sets are based off of bra size, so the bra and panties will be sized to coordinate with each other. You can, however, easily find underwear that is sold separately, so you can purchase the correct bra and panty sizes for her. Find out both her bra and panty size before you begin shopping for women's underwear to give her as romantic Valentine gifts.

Make it romantic: Valentine's Day gifts are all about romance and making her feel loved. When you give her lingerie, make it special. Wrap the intimates in soft tissue paper inside a gift box or lay a pretty chemise out on the bed with rose petals and a bottle of champagne on the nightstand. When you're planning on giving women's lingerie, a romantic presentation is sure to lead to an even more romantic evening.
Underwear Gifts for Him:

What is comfortable: When it comes to men's underwear, it's all about comfort. Find out what kind of underwear your man likes to wear, whether it is boxer shorts, briefs, or boxer briefs. Once you know what kind of underwear he finds comfortable, you can start shopping for something special to give him as a Valentine's Day gift.

Indulge him: Men's underwear doesn't typically come in a large variety like women's lingerie does, so finding something special can be a little difficult. Look for luxurious silk boxers and a matching silk robe for your valentine to make him feel loved, or surprise him with a sexy pair of boxer briefs.

For the novelty of it: One of the best ways to buy men's underwear as a romantic Valentine gift is to look for novelty undergarments for men. A pair of boxers printed with hearts, kisses, or roses is perfect for Valentine's Day, and underwear in shades of red and black make great romantic gifts.
What Do You Want to Do Next?

Shop Valentine's Day Gifts
Find the Perfect Gift in Our Gift Center
See All Guides
Read More Holiday Guides
Get More Valentine's Day Gift Ideas