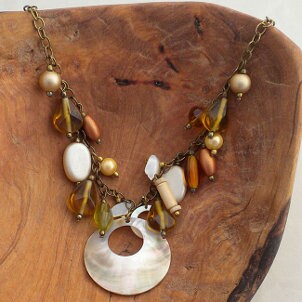 Charm jewelry is fun and unique. A charm necklace quickly adds jingling charms and sparkly flair to any ensemble. If you are looking for a special jewelry gift, consider charm jewelry. Charm necklaces can be personalized to represent the recipient's tastes and interests, and additional charms can be added to a necklace any time. A charm necklace will delight any girl or woman on a birthday or holiday. Let us help you select a spectacular piece of charm jewelry for someone special.
Gifting a Charm Necklace:

Choose a versatile chain. Selecting a nice, versatile chain will ensure that the jewelry will fit into the recipient's wardrobe. Avoid extra-long or -short chains and consider chains with an adjustable length. You can hang a charm pendant from the chain you select or clip charms right onto the chain. If you choose to clip charms directly to the chain, choose a chain with large links. Silver jewelry is a favorite of many women because it is neutral. You can also choose a silver necklace and both gold and silver charms if you want to incorporate both metal types.

Select personal charms. Gifts are the perfect opportunity to show someone that you know them and that you care about their interests and hobbies. When you are choosing a charm necklace, consider adding personal, original charms. Charms depicting animals, sports, hobbies and occupations are a good place to start. Charms that remind the recipient of an inside joke or something special you did together are also fantastic for charm necklace gifts.

Leave room for the recipient to add charms. One of the best things about having charm jewelry is that it is never really complete. You can add charms to charm jewelry whenever you feel like it and collect charms from around the world. When you give a charm necklace, consider leaving room for additional charms and encourage the recipient to collect new charms. If you choose to put charms on a pendant rather than on the chain directly, consider including one plain pendant for extra charms. You can also help the recipient add more charms to her necklace with every holiday, birthday or special occasion.

Buy Charm Necklaces
Back to Guides Directory