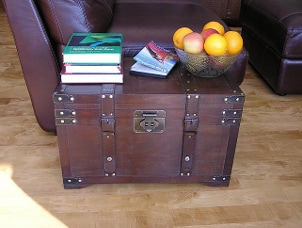 Old furniture has charm and personality that makes your space feel like it was thoughtfully designed. Picking up unique pieces at an antique store has become such a popular pastime that finding new additions for your home has become somewhat of a treasure hunt. If you don't have time to go hunting for a specific piece or prefer to purchase something new that feels old, you can still create a vintage atmosphere with these decorating tips.
Getting a Vintage Look:

Decide which style you're drawn to. The term "vintage" can be used to describe anything old, so before you start looking, focus on which antique look you like best, from rustic buckets that look like they belong in an old cabin to trunks that could have been a fixture in European villas. Once you decide on a style, you can start to build a collection of items for decorating.

Integrate new items and antique treasures. Rooms that look like they were plucked from an old photograph can be charming, but it's not all or nothing when it comes to decorating with antiques. Create a modern look with a vintage vibe by mixing pieces that are new and old. For example, you can hang a pattern of picture frames that includes simple new frames with personal photographs and framed paintings picked up from an antique store, or you can drape an heirloom quilt over your modern sofa to soften the lines.

Look for items styled after vintage pieces. If you want a specific piece for your home, look for items that are modeled after antique treasures. Stools that look aged can serve as perfect bedside tables, and vintage-looking clocks pair modern technology with old style. New decorative accessories that feel old offer you the quickest way to get the look you want and the pieces you need.

Personalize furniture yourself. . If you're into crafts or home improvement, you can easily transform new items to get a vintage look for your home. Pick up a can of bronze spray paint to cover shiny chrome or sand a piece of furniture until it looks worn to give new items character.

Buy Decorative Accessories
Back to Guides Directory