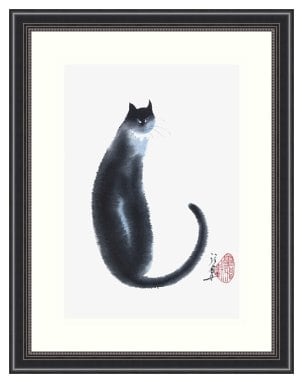 Things You Need:
The print or picture to be framed
Ruler or measuring tape
Selected frame
Tape
Flathead screwdriver
Glass cleaner and paper towel
Decorating your home with framed prints or photographs adds a cozy touch, but you may find that professional framing is expensive and that building your own frame requires detailed training and skill. If you don't have the time or inclination to learn how to build a picture frame, then purchasing a ready-made frame might be a better choice. With thousands of pre-made photo frames available, you can easily find picture frames to suit your taste. Learning how to frame a picture is easy: With a bit of time and patience, you'll be framing pictures with the best of them. Before you begin framing a picture, it's important to gather all the materials and equipment you'll need to complete the project.
Instructions:

Measure your picture. Using the measuring tape, measure the length and width dimensions of your picture.

Purchase your frame. Take your time when deciding which frame to purchase. Make sure that it fits your creative tastes and that the colors coordinate with the area where you will display it. Consider purchasing a frame with a coordinating matte; it will lend a professional finish to your final product.

Disassemble the frame. Remove the backing by using the screwdriver to gently lift the metal tabs. Take care not to break them off as these hold your frame together.

Clean the glass. Often, you will find that the glass is dirty and full of debris. Take a small amount of glass cleaner and use a paper towel to clean to a bright shine.

Affix the print to the matting. This is a process of trial and error. Lay your matting face down on a clean surface and place your picture on top (also face down). Using your finger to hold the print in place, lift both items together to check if the picture is centered on the matting. Once the picture is centered, use the tape to hold the picture and matte together.

Assemble your frame. Replace the glass in the picture frame and be careful not to cut yourself as you maneuver it into place. Insert the matte and attached picture, placing the hardboard backing on top. Gently press the metal tabs back into place.

Hang it. Hang or stand your picture in the desired location.

View All Photo Frames and Albums
Back to Guides Directory