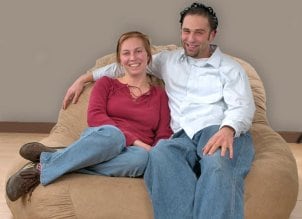 If your home has beanbag chairs that have gone completely flat on you, don't throw them out. Instead, learn how to fluff a beanbag chair and save yourself time and money. Rejuvenating these pieces of furniture is actually quite simple. There's a better solution than throwing your old one away and buying a new beanbag. By following a few easy steps, you can put the bounce back in your beanbag in no time.
Fluffing Your Beanbag:

Remove the bag's outer shell. Most beanbag chairs have an inner core that is composed of Styrofoam or furniture-grade urethane foam pieces. Begin by removing the bag's outer shell to expose the inner core. Never cut or rip the beanbag's cover. You may end up causing irreversible damage to other layers of the beanbag. (You can also take the time to do a little maintenance and vacuum your beanbag cover.)

Fluff the inner core. After you have removed the outer shell, flip the beanbag chair over. Next, hold the bottom of the chair and shake it up and down firmly. Repeat this action repeatedly until you reach the desired level of fluffiness. The more you agitate the inner core of the chair, the fluffier it will get. A beanbag chair goes flat when the foam gets compressed. Shaking up the inner foam will let it expand back into what you initially received when you purchased the beanbag.

Check for fluffiness. After you've shaken the chair, turn it back over and evaluate the difference in appearance. If it looks drastically fluffier, the bag is probably ready, but double check by sitting in the chair. Start again if your beanbag's support leaves something to be desired.

Replace the cover. Once you're satisfied with the fluffiness of your beanbag chair, it's time to replace the cover. Put the filling back in the outer shell, zip it up and take a seat; it's time for a break.
Tips from Overstock.com:

Even after you've worked your hardest to fluff up your beanbag, sometimes it just isn't enough. If your beanbag has been damaged, the foam could easily fall out through holes. If you've lost too much foam, you'll need to replace the missing foam. Styrofoam peanuts are an inexpensive way to replace the missing pieces.

If your zipper keeps unzipping and letting out the foam, find a zipper lock to keep it firmly closed. A good zipper lock saves you from having to clean up all the little pieces that fall out of your beanbag.

Buy Bean and Lounge Bags
Back to Guides Directory