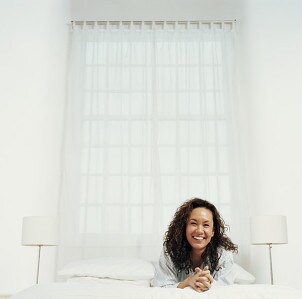 Things You Need:
Magazines
Camera
Folder
Paint chips
In the world of home decor, there is a style for every preference. However, sorting out your preferences and figuring a way to make them work together may prove challenging. You may discover that finding your decorating style involves very little research, while someone else may spend a great deal of time looking at home decor resources and researching materials to determine a style that suits her.
Finding Your Decor Style:

Gather inspiration from the decor around you. Look at design and decor magazines, Websites or books. Remember, however, that professional photographers stage many of the images in these publications with lighting and arrangement. People, pets and personal belongings rarely appear. Your home will have a more lived-in look no matter what sources provide your inspiration.

Cut out images or copy ideas from rooms that inspire you. Do not limit yourself to images of fully finished rooms. If you see a detail, such as a wallpaper pattern, chair, garden or light fixture, that catches your eye, clip it. Even nontraditional elements, such as famous paintings, product packaging and flea market finds, have a place in your clippings. Keep all your ideas in a folder for easy reference.

Review your findings. When you have gathered several decor ideas, look through them for common elements. Look for similarities throughout the different decorating schemes. Place these images in different combinations and look for themes. For example, a gypsy-style ottoman and silk throw pillows can transform a forgotten window into a reading area. Swatches of vintage fabric may seem relatively useless until you hold them up to a small window and find they can serve as curtains or place them against a couch as inspiration for throw pillow covers.

Name your style. This step is controversial because many people do not want to limit their aesthetic preferences to an established style. However, even nonconformists may find decor nirvana in the styles known as eclectic, bohemian vintage, bohemian modern and international. Era-specific decor preferences, such as Victorian or retro 1950s, make for easy labeling. Some styles seem more elusive, so look to details such as hardware, finishes, paint combinations, textiles and accessories.

Integrate your preferred elements of style slowly into your home. You may keep with a relatively simple backdrop, but try a sampling of accessories in a decor theme to see if it suits you as well as your home.
Home Decor Tips:

Trends can inform your style but should never take the place of authentic decor elements, such as family photographs, a favorite painting, do-it-yourself projects or family heirlooms.

Avoid matching textiles and furnishings throughout a room. Most decors benefit from a contrasting color or pattern amid a more basic backdrop to create a focal point.

Buy Home Decor
Back to Guides Directory