by G. K. Bayne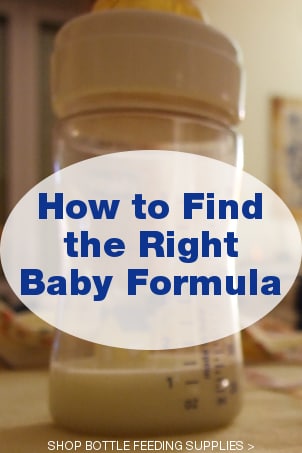 The right baby formula for your baby needs to be decided during a conversation between you and your baby's pediatrician. If you are not breastfeeding, choosing a baby formula becomes the most important health decision you can make for your child. Infant formulas sold in the United States are all approved by the FDA as being safe for bottle feeding. A variety of different formulas are available that address special needs, such as lactose intolerance and other allergies.
Selecting Baby Formula:

Talk to your doctor. Discuss your choice to use baby formula with your child's pediatrician before your child is born. If you, your spouse, or your other children have certain allergies, be sure to mention these at this time.

Decide if you wish to purchase formula in powdered form, concentrate, or in ready-to-feed form. Powdered formula is the least expensive. Both powders and concentrates require water to be added. Ready-to-feed formula needs only to be poured into bottles or, in some cases, a nipple attached to the bottle container.

Find an iron-fortified infant formula. Babies who are not breast fed often develop an iron deficiency. Formulas that are iron-fortified have been declared safe by the FDA and can prevent anemia. For the child who appears to be lactose intolerant, you and your child's doctor may decide on a brand that is either soy-based or based on the whey protein of cow's milk instead of the traditional whole milk formulas.

Change the formula for your infant only on the recommendation of your child's doctor. There are minute differences between regular formulas that can cause stomach upset or other health problems for your child.

Notify your doctor immediately if you notice that your child has trouble digesting his current formula. Symptoms can include colic, vomiting, and diarrhea. Your doctor may suggest a special formula.
Baby Formula Tips:

Keep prepared bottles of formula refrigerated until feeding time. Throw out bottles left out at room temperature for more than an hour.

Always prepare formula according to package directions. Too little water can cause stomach upset or kidney problems. Too much water can cause nutritional deficiencies.

Keep opened cans of concentrate or ready to feed formulas covered in the refrigerator. These should be used as soon as possible, preferably within 48 hours after opening.

Shop Bottle Feeding Supplies
Shop Bibs & Burp Cloths
Shop All Baby Feeding Supplies
See All Guides
Read More Baby Guides
Learn More about Feeding