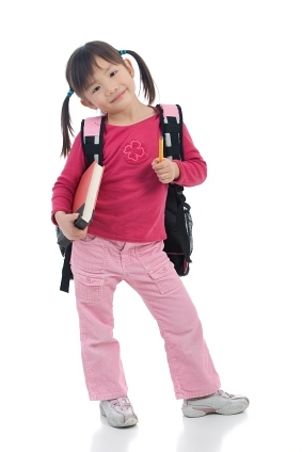 Not all running shoes are the same, especially those designed for growing bones. Running shoes for kids should be more than just attractive and comfortable; children's athletic shoes should also be functional and provide proper support and ventilation. Select kids' running shoes that are the best for your child and his or her activities.
The Best Running Shoes for Kids:

Look for adequate support. The best running shoes for kids provide adequate support against the jarring that can affect a child's ankles, spine, back and shoulders when he or she runs or plays. By supporting the ankle while it is in motion, a good running shoe minimizes aches and pains and prevents possible injury to important joints and muscle groups.

Get a perfect fit. Make sure the shoe fits your child's foot properly so the ankle is properly supported in the shoe and is not subject to strain from an ill-fitting shoe. Allow at least half an inch of wiggle room in the front of the shoe; however, the shoe should feel snug on the sides and not allow your child's foot to slide in the shoe when he is standing or in motion.

Check for proper ventilation. A good kids' running shoe provides proper ventilation and an adequate cushion for your child's foot. Whether your child participates in a summer hiking camp or runs in the snow during the winter, his running shoes should circulate air to prevent sweating, which breeds bacteria and micro-organisms, and to prevent dampness and moisture from becoming locked within the shoe. Ventilation also helps cool the foot.

Look for an easy-to-put-on shoe. No matter how much support your child's shoe provides, a good running shoe is also equally comfortable and easy to put on without adult supervision. Depending on your child's age, consider a running shoe with a Velcro strap. Running shoes with a Velcro strap are ideal for young children and can reduce accidents that can occur from an untied shoelace. The Velcro strap is designed to secure your child's foot inside the shoe regardless of the level of his activity.

Find a shoe that can be cleaned. Kids are notorious for finding mud puddles and wet, grassy areas, which can be hard on shoes. Look for shoes that can be wiped clean easily and can withstand mud and moisture.

Buy Children's Athletic Shoes
Back to Guides Directory