How to Find Quality Cheap Jewelry
by Maegan Crandall
If you had an unlimited budget, maybe you would splurge on designer jewelry and wear diamonds every day. The good news is you actually can have a jewelry box full of gorgeous pieces without spending a lot of money -- if you know how to shop. These tips can help you get the most for your money when you're shopping online for jewelry.
Finding Quality Cheap Jewelry: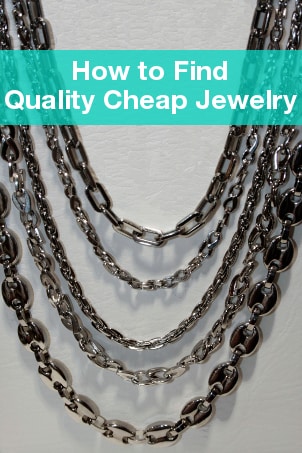 Shop Jewelry ▸
Choose materials carefully.

Jewelry is available in all sorts of styles that incorporate a myriad of metals, stones, and other materials. When you are looking for quality jewelry, it helps to know what each piece is made of. Gold, platinum, and titanium are durable, valuable, and stylish. Sterling silver is an affordable yet high-quality material. Gemstones can be created or simulated, and they can be an excellent way to get the look you want without spending as much money.

Learn the difference between sale, clearance, and overstocked jewelry.

It's always a good idea to look for deals, but you'll want to know what type of deal you're getting. Jewelry that is on sale is usually part of a temporary promotion, and it will usually return to its regular price once the promotion has ended. Clearance jewelry includes pieces a retailer wants to sell out of, and while prices are low, selection will be limited. Overstocked jewelry is leftover from a clearance or pieces of jewelry that were created as part of a limited collection or brand.

Be open about style.

If you have an unlimited budget, then you can be picky about style and only choose very specific pieces. When you are shopping for affordable, quality jewelry, on the other hand, it is important to be open about style. Choose pieces that will fit into your wardrobe and complement your personality, but don't hunt for specific luxury pieces or be strict about certain brands.

Shop for sets.

Jewelry sets are priced to be a good deal, and you'll get several pieces that can be worn together or separately. If you want to try a jewelry trend but you don't want to spend a lot of money on something that may go out of style in a few season, then jewelry sets are the perfect way to do it.

Follow the "dollar per wear" rule.

Jewelry is an investment, and the best way to measure that investment is to follow the "dollar per wear" rule. This rule states that an item is worth its cost if it is worn enough times for each wear to equal a dollar. If you purchase a $50 dollar necklace, for example, you should wear it at least fifty times to get the most out of your investment. If you aren't sure that you will get the most out of the jewelry you are considering -- like if it is a very trendy style -- choose a lower priced piece instead. Of course, wearing your $50 dollar necklace hundreds of times is always recommended.