How to Find Discount Bedding
by Staff Writer
Even if you can't justify spending exorbitant amounts for luxury bedding, you can still get some of the best sheets on the market that fall within your price range when you shop for discount bedding. Whether you're buying bedding for a new bed or you just want to switch up your current bedding scheme, discount bedding is probably your best choice for finding top-quality bed linens for cheap. To accessorize your bedroom with comfortable blankets, sheets and pillows, look out for seasonal sales and discounts that bring down the price of brand-name bedding.
Buying Discount Bedding: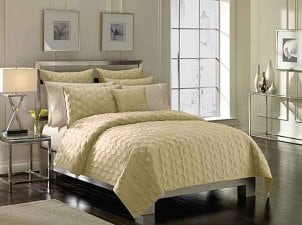 Shop Discount Bedding ▸
Size it up.

Before you can make any moves on your discount bedding hunt, you need to determine the size of the bed you want to outfit. Not knowing what size of bedding you need may slow your search and might lead to you ending up with the wrong bedding for the job. Popular bedding sizes are twin, twin XL, double (also called full size), queen, king and California king. You'll also want to figure out what depth your bedding needs to be. Mattresses with pillowtops or extra-foam toppers call for deep-pocket sheets that will stay in place.

Pick a style.

The next step you should take in finding discount bedding is deciding on style. Discount bedding is available in all kinds of styles and designs, so you may be overwhelmed if you don't have an idea of what you're looking for. You'll also want to think about climate conditions and the material that will best suit your situation. If you live in an area that experiences extreme cold, you will want to find discount bedding made of warm materials like flannel. If you're in a warmer area, you will want to consider light, airy cotton or linen bed linens.

Look at last season's offerings.

Once you've narrowed down your size, style and material choices, consider looking at last season's bedding offerings. Finding discount bedding is easier when you're looking at last season or last year's bedding. Most bedding is designed with long-lasting style in mind, so while last season's offerings may be cheaper, they will still look stylish.