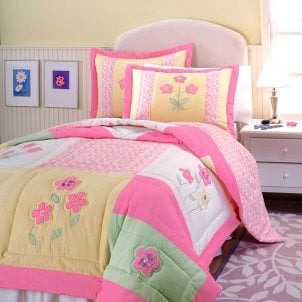 Finding the right girls' bedding for your little girl is essential to making her bedroom her own special place. Girls can be picky about how their rooms look. Fortunately, there are all kinds of styles, materials, sizes, and colors of girls' bedding available, so finding the right type for your girl shouldn't be difficult. Here's what to look for.
Finding Cute Girls' Bedding:

Determine the size you need: The first thing you will want to check off your list in your cute girls' bedding hunt is size. What size of bedding are you looking for? If you are redecorating her whole room, this may be the time to move her from a small bed to a larger one. She may still be in a toddler bed, so you may want to decide if she's ready for a twin or full-size bed before you buy bedding. If she has been in a twin-size bed, and she's getting to be older, look into a full or queen bed first.

Think about color: Next, you should take color into consideration. Take a look at the bedroom you want to outfit, and then think about what color of girls' bedding would work best. You may want something that matches the paint or, if you're feeling bold, you might consider contrasting bedding. If you are planning on repainting the room, it may be a good idea to buy bedding first, then use that to match a paint color to; paint is available in many more colors than bedding, so it's a lot easier to match it to the bedding than the other way around.

Consider her style: Cute girls' bedding is available in a huge range of styles and designs. Be sure to consult with your little girl first to see if she has a favorite color or design. If you want to coordinate bedding but don't have time to look for all the separate pieces, consider a bedding ensemble or bed-in-a-bag, which will give you all the key bedding elements. For more girls' bedroom inspiration, be sure to read our guide featuring five girls' bedding ideas.

Decide on material: The right material is an important thing to consider when finding girls' bedding. If you want to fight off the cold, consider girls' bedding made from flannel or think about a heavy down comforter or duvet. For warm summer months, light linens and cotton are perfect for keeping girls' bedding from getting uncomfortable.

Coordinate with accessories: The finishing touches will make her bed cozier and will add extra style to her bedroom. Pick up a few throw pillows, a throw blanket, coordinating curtains, or even a small rug to go next to her bed. She'll love having a fully outfitted room so much, she may even keep it clean.

Buy Girls' Bedding
Back to Guides Directory