How to Fill a Hope Chest
by April Sanders
Traditionally, a young and newly married couple would receive a hope chest, often made of cedar, filled with the items they needed to establish their home together, such as linens, crockery and oil lamps. In fact, the Amish originally called this customary gift a wedding chest. Today, these trunks and chests are often given to young women when they leave home. Mothers fill this storage chest with both practical and sentimental items, including heirlooms and necessities for college or marriage. Beginning the cedar chest tradition in your own home just takes a little bit of time. The following tips will help you fill a hope chest for your own children.
Filling a Hope Chest: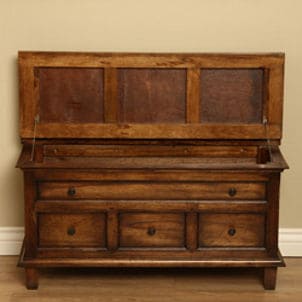 Shop Trunks and Chests ▸
Fill a hope chest with warmth.

Fold and place heavy linens on the bottom of the chest. Start with a cozy rug for her new bedroom and add a sheet set, too. You can also invest in a nice down comforter for your daughter to take with her to college. The practical cedar chest she takes now can eventually become a treasured blanket chest for storing favorite quilts and blankets in her home. You may even want to put together a separate blanket chest for your daughter if she particularly loves quilts.

Fill a hope chest with practical items, such as those things your daughter will need in her kitchen.

Set dishes, glasses and other breakable items carefully on top of the folded linens in the storage chest. Wrap the items in tissue paper or bubble wrap, and then pack them in boxes before putting them on top of the linens. If you are building a wedding chest, look for ways to personalize these items. Monogrammed kitchen towels or glass bakeware etched with her name will make her smile when she opens the chest.

Fill a hope chest with memories.

Give her a scrapbook of her last year at home or fill a scrapbook with mementos from family vacations. Tuck a favorite family movie DVD into the wooden chest and include items from her own childhood, such as baby clothes or awards won. Place these things on top of the linens. If the chest or storage trunk you've picked is becoming too full, you may want to save some of her childhood pieces for another gift.

Fill a hope chest with love.

Include an inspirational book, a framed photo of the family, a pre-paid calling card and a note or two tucked away among the linens in the wooden chest. Pack a special apron if she likes to cook or a table runner if she likes to decorate. Include things that will make her new house or apartment feel like home. Finally, make sure the chest or storage trunk closes tightly and that breakable items will not shift when it is moved.