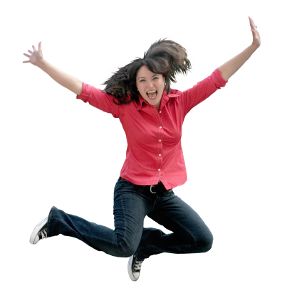 A button-up shirt is a staple in any woman's wardrobe. It looks great with dress pants or a skirt for work, and you always reach for it when you want a comfortable weekend outfit of jeans and sneakers. But your button-up shirt can get even more mileage if you follow a few tips for incorporating it into your everyday outfits. Read on for ways to wear your shirt in different styles.
Dressing Up a Button-up Shirt:

Add a vest or sweater. Women's button-up shirts look very classic and crisp when worn beneath a V-neck sweater, sweater vest or fitted menswear vest. You can either tuck in the shirttails or leave them out, depending on your personal style. This look can dress up jeans, khakis, dress pants and even skirts.

Get belted. Simply placing a belt around your waist can enhance a plain button-up shirt. Try a wide patent leather belt or a stylish corset belt and pair the shirt with a full, flouncy skirt. You can also wear a skinny belt or one in a vibrant shade. Be careful when wearing colorful belts to the office if the color may be distracting.

Don't sweat it. Wear a cardigan or wrap sweater with your short-sleeved button-up shirt for a cozy, pulled-together look. If the sweater combination looks too bulky, cinch it with a wide belt. Consider folding the cuffs of your shirt over the sweater for a more polished look.

It fits to a tee. For a more casual look, layer a vintage or screen-printed T-shirt over your shirt and roll up the cuffs and sleeves. You can also wear a blazer over the outfit to complete the casual, funky look.

Tie it up. Short-sleeved button-up shirts are simple enough that they can be dressed up with a bold scarf. Pick one in either a complementary or contrasting color and either knot it near your collar bone or near your sternum.

Buy Women's Shirts
Back to Guides Directory