How to Dress for a Beach Wedding
by Staff Writer
Published April 29, 2010 | Updated June 11, 2015
Beach weddings are usually less formal than indoor events. As a guest, you'll want to dress appropriately for the setting. The time of day, climate, wind, sand, and saltwater can all affect your wardrobe choice for the occasion. These tips will help you pick out the best men's clothing and women's clothing for a beach wedding.
Women's Beach Wedding Attire: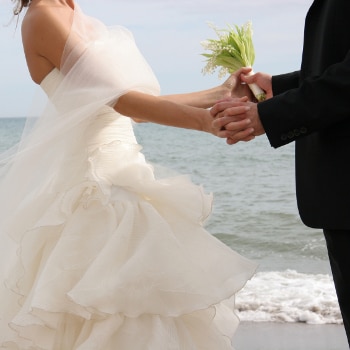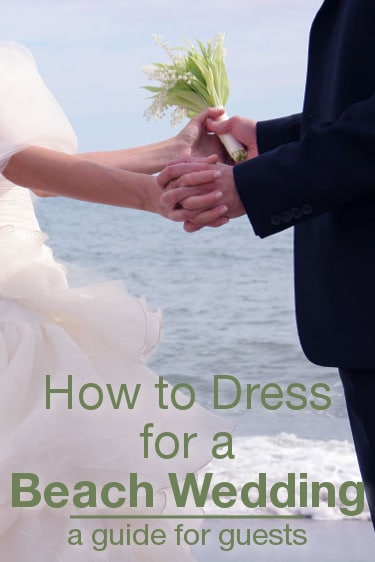 Shop Clothing & Shoes ▸
Choose a Lightweight Look

It can be hot on the beach, not to mention humid and windy. You will look and feel much more relaxed in lightweight materials that work with, not against, the elements. A chiffon dress or skirt is a good material for a beach wedding because it is lightweight and will move with the breeze. If you're going more casual, consider a pair of white linen pants to keep you cool under the sun.

Wear Bright Colors

Beach weddings can be elegant, exotic, and playful all at the same time. Try playing off this idea with some brightly colored clothing and accessories, like a melon-colored dress paired with a bright blue necklace and clutch. For more formal beach events, a bright yellow belt or pair of shoes adds a bit of color to basic black or white dress.

Wear Comfortable Flats

You'll likely be standing on the sand at a beach wedding, and possibly at the edge of the water. A pair of ballet flats or beaded sandals is an easy, comfortable choice that won't sink into the sand, so you won't risk twisting an ankle or breaking a heel.

Take a Jacket or Wrap

Beach weddings can get chilly in the evenings or when the wind picks up. Attend the event prepared for cooler weather with a light jacket that matches your attire or a loose wrap or shawl you can wrap up in to stay warm on the beach.

Men's Beach Wedding Attire:

Choose a Casual Look

A polo shirt or a button-down shirt with linen pants is a comfortable way to go a bit more casual for a beach wedding. You can dress it up for the evening with a nice sport jacket. Most beach events are casual enough that you don't need to wear a suit, but if you choose to, a lightweight linen suit will do.

Consider a Tie Clip

One of the reasons beach weddings are so popular is because of the gentle ocean breezes. With all that wind, however, you'll want to wear a tie clip to keep your tie in place. Unlike a tie tack, a clip won't damage the fabric of your tie.

Wear Appropriate Footwear

This is a chance for you to wear sandals or casual shoes to a wedding. You will be walking in the sand and perhaps in the water, so make sure that your shoes are waterproof or that you can take them off easily to avoid damage from the water or sand.