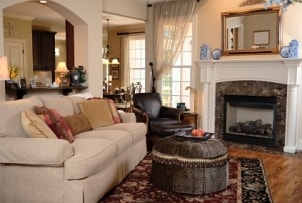 When it comes to home decor, determining the right size area rug is one of those subjects up for debate. Whether you side with the low-profile minimalists or the color-loving maximalists, the area rugs in your home should have a size and color that satisfies your decorative as well as functional needs. Use these guidelines to create a decorating strategy and to give your space a unique look.
Finding the Right Size Area Rug:

Arrange the furnishings, accessories, and wall art in the room first. Then you will have a clearer picture of how the colors and finishes work in the room, and what size of area rug would complement the look best. Use a tape measure to get an exact size before you start shopping. When measuring the space, keep this general rule in mind: All four legs of a piece of furniture should either be on or off the rug.

Consider your space. If you are decorating a narrow hallway or stairwell, then the constraints of the space largely determine the size and shape of your area rug. For small rooms, some people favor leaving a strip of eight inches of exposed floor space around the area rug. For larger rooms, some people prefer a minimum of 18 inches of exposed floor space on every side of the rug. Others say two feet around the rug's perimeter allows for better flow. Go with what looks and feels the best to you.

Create symmetry with larger pieces of furniture. If you intend for an area rug to lie underneath a dining room table, it should extend the full length and width of the table, plus enough space for chairs to be easily pulled in and out. If you are using an area rug underneath your bed, allow it to extend prominently on either side of the bed, typically nearly two feet on either side for a king-size bed.

Remember the area rug's intended purpose. If it serves as the room's focal point, a rug in a larger size with prominent patterns or colors can make a bold statement. If an area rug sets off vignettes of space within an open floor plan, make sure it complements the scale of the surrounding furniture and the shades of the wall colors to give the space a finished look. Some area rugs serve as play surfaces for young children, so surfaces should cover enough space for rolling around and spilling out toys.

Try your area rug in various layouts and combinations. A single area rug can make a statement in the living room, but multiple area rugs in different patterns and colors have a designer look. A smaller area rug softens hard edges and adds patches of color without overwhelming the space.
What Do You Want to Do Next?

Shop Runner Rugs
Shop Accent Rugs
Shop All Area Rugs
See All Guides
Read More Home Guides
Learn More about Area Rugs