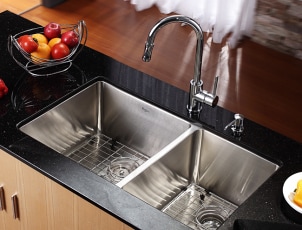 Things You Need:
Non-abrasive sponges
Paper towels
Liquid cleanser
Vinegar
Baking soda
The kitchen is the most heavily used room in your home, so it takes work to keep it clean. Your kitchen sink needs special attention in particular. Whether you have a stainless steel kitchen sink that's easy to maintain or a specialty copper sink, you can significantly improve the appearance and cleanliness of your kitchen sink by doing a thorough deep cleaning. Here are some steps to help your kitchen sink shine.
Cleaning Your Kitchen Sink:

Wipe down everything with a clean cloth. A quick wipe-down with a damp cloth will remove dust and food particles from the kitchen sink surface.

Generously apply cleanser. Use a cleanser specified for stainless steel kitchen sinks or a solution of dish soap and water. Spread the cleanser generously over the kitchen sink surface, especially over crevices around the faucets and sink plugs.

Scrub down the sink and faucet. Scrub the sink surface thoroughly, paying special attention to the faucets and sink drain areas. You may want to clean the counter around your kitchen sink at the same time.

Rinse the sink first. Use a different sponge or cloth for rinsing. Scrub to get the cleanser and remaining grime washed out of all those crevices and tight spaces. Then rinse the faucet. Wipe excess water off of the edges of the sink and draining boards.

Deodorize the sink disposal. Sprinkle a good amount of baking soda in your garbage disposal, and let it sit for a minute. Then run water and the disposal. This will help cut down on odors around your kitchen sink.

Dry the sink with a cloth. Wipe down your kitchen sink surface to prevent spotting. Use paper towels to buff the faucet fixtures to a lint-free shine. If you have a stainless steel sink, you can shine the surface by wiping it with vinegar and rinsing it clean.
Warnings:

Avoid using steel wool or abrasive pads on your sink. Porcelain, enamel and even stainless steel kitchen sinks can scratch if you use abrasive scrubbers. If you have to scrub a stainless steel sink, use a sponge or a soft-bristle plastic brush.

Avoid putting lots of food particles down your garbage disposal. The less food matter that goes down the drain the less likely your kitchen sink will be to clog or smell.

Buy Kitchen Sinks
Back to Guides Directory