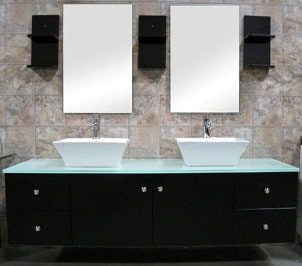 Things You Need:
Vanity cleaner
Clean rag
Picture frame
Plant
Vanity lights
Vanity accessories
Chances are you don't immediately take guests straight to your bathroom vanity to show it off. However, you still want your vanity to look nice for guests and yourself. So how exactly does one decorate a vanity? All it really does is hold your soap, toothbrush and, occasionally, your towel. To optimize your vanity space, you need to make sure there's enough room, light and a personal touch. Below are some important tips on how to decorate your vanity.
Vanity Decorating Tips:

Clean it. Remove everything from your bathroom vanity and wipe it down with the appropriate cleaner. Be sure you use the right vanity cleaner depending on whether your vanity is made of laminate, granite or wood. Wipe off water spots and soap rings and watch especially for mildew spots. Cleaning your bathroom vanity and cabinetry will make your bathroom furniture look newer and add some sparkle to your bathroom.

Start with necessities first. Put your necessities out first, such as your toothbrush, soap holder and cup. Analyze how much space is left over. If there's enough room, you can probably add a plant or picture frame, but if the vanity is too crowded you will lose usability. Look at your bathroom vanity and see if it's too crowded. If your necessities leave you no room for anything else, maybe it's time to upgrade to a new bathroom vanity.

Redecorate. If your vanity is too small, it might just be time to install a bigger and better vanity. You can buy a bathroom vanity in an assortment of materials, colors and style. If you enjoy a sleek, modern style, you can have that coveted look with glass and metal vanities. If you're not interested in the modern look, you can have a country-style bathroom vanity. Many are easy to install yourself. A single-sink vanity will give you more space, while two sinks provides extra usability for washing hands and brushing teeth.

Add matching accessories. Of course, if a big redecoration isn't in your budget, consider just updating your bathroom vanity lights. Sometimes just adding more light will give your bathroom vanity a brand-new look. If you've been working with a single overhead light, browse the multiple-light vanity sets to illuminate your morning routine. In addition, you can always add a new matching soap dish, tumbler, toothbrush holder, lotion dispenser, wastebasket and tissue holder to your vanity. These matching accessories will spice up your vanity. Accessories such as towels and hardware are also inexpensive bathroom decorations.

Buy Bathroom Vanities
Back to Guides Directory