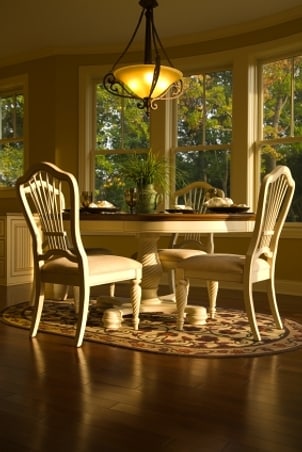 Add color and warmth to your dining room by laying area rugs atop hardwood or tiled floors. Round area rugs are a perfect fit for dining rooms with circular tables. Whether it's the main dining table, a decorative accessory table or simply a floor lamp with a spherical lamp shade, round area rugs are the perfect accent piece. They can also be used to freshen the look of worn or stained carpet in a well-used dining room.
Decorating with Round Rugs:

Use round area rugs to group furniture. Place a round dining room table and its chairs on the round rug. Choose a rug that is large enough to accommodate the table as well as all dining chairs when they're pulled out from the table. You should be able to maneuver the chair comfortably, without moving off the edge of the rug.

Create a focal point in the dining room. Use the round area rug to create a conversation piece in the room. Choose a hand-woven or ornately patterned rug with a center medallion to complement a room with solid-colored walls. Make sure the focal-point rug is the largest rug in the room. Place it in the center, under a round dining table.

Accentuate a color scheme. Select a round area rug that highlights existing colors in the room. Coordinate with colors from the walls, tablecloths, wall hangings and window treatments. Avoid competing patterns. Choose a subdued area rug if accessories in the room have a busy pattern.

Hang handmade area rugs on the wall. These decorative pieces are perfect for large walls or the area above a dining room fireplace. Use a quilt hanger to stretch and display the rug as artwork.

Accent decorative pieces of furniture. Place a small round area rug under decorative round buffet carts, accent tables and floor lamps. The soft surface protects hard floors from scratches while coordinating similar circular shapes together in the room.
Round Rug Tip:

Round area rugs can be combined with long rectangular runners. Use the longer rugs to lead into the room, providing a pathway to the round area rug.

Buy Round, Oval and Square Rugs
Back to Guides Directory