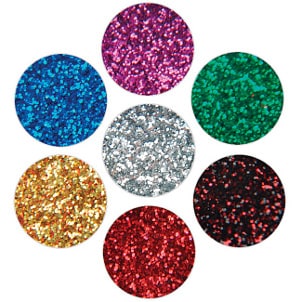 Things You Need:
Cardstock or newspaper
Paint brushes
Glitter adds extra pizzazz to all kinds of craft projects. This shimmery embellishment can be applied to paper, home decor items, holiday decorations and pictures. In fact, glitter can be used to decorate nearly any object that you want to dress up. There are many different types and colors of glitter including fine and coarse glitter as well as white, blue, red and pink glitter. Each type of glitter has its own individual best uses. Learning how to decorate with glitter will give you the license to add sparkle to everything you touch in a tasteful way and let you personalize your home, craft projects and even your clothing and accessories.
Decorating with Glitter:

Glitter can be applied to a wide variety of surfaces. Deciding where to apply glitter is probably the most fun part of the process for most people. Your imagination is practically your only limit, since glitter can be applied to almost any surface. Decorating with glitter on scrapbooking supplies, photo albums, cards and other craft projects are the obvious ways to use this sparkly adornment, but you may not know that you can also use glitter on home decor items such as picture frames, storage boxes, flower pots and vases, as well as apparel and accessories such as belts, socks, jeans, tees, shoes and jewelry.

The process of decorating with glitter is different depending on the surface you are applying it to. When you are decorating with glitter, it is important to know how to apply it to a variety of surfaces. Decorating paper, photos and cards with glitter is a fairly simple process. Using basic craft glue, you can create any design that entices you and simply shake the glitter over the glue. Once the glue has dried, simply pour the excess glitter off onto newspaper or cardstock and place it back into the original jar. If you are decorating other crafts, you may want to apply the glue with paint brushes in order have a high level of control over where the glitter goes. When decorating apparel and other items that have large surfaces, you might consider using a spray adhesive in place of traditional glue to save time and produce a more even result.
Glitter Tips:

Different types of glitter have different appearances. There are several different types of glitter available that will create different effects depending on the project. Ultra-fine glitter will cover an area more thoroughly and give you more color saturation. These types of glitter are great for scrapbooking, apparel and very specific glitter control. Coarse glitter, on the other hand, will produce a more transparent glitter effect and is great for decorating home decor items and children?s craft projects.

Stencils are a great tool for more exact glitter application. Simply use the stencil as a guide for the glue before applying the glitter. This is especially useful if you are using glitter to create words in scrapbooks or logos on t-shirts.

Using too much glue can make a mess of your work and ruin your design. A thin, light coat of glue will produce a much neater result. This is an especially helpful tip to share with children to avoid frustration for both of you.

Buy Embellishments
Back to Guides Directory