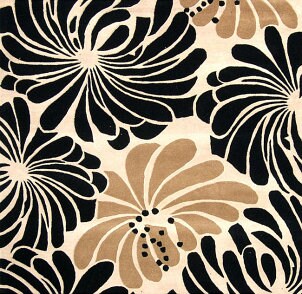 Patterned area rugs are one of the most popular home decorating trends. They instantly infuse a room with color without requiring a lasting commitment. One way to incorporate this look into your home is with a statement-making floral area rug. While you can find floral rugs that are bright and whimsical, it's also possible to decorate with subtle floral rugs that are suitable for places where you never pictured this type of rug working.
Decorating with Floral Area Rugs:

Create a sophisticated study. Moody is the last word you might associate with floral area rugs, but rugs with dark colors and a small pattern might surprise you. For example, try looking for a deep burgundy rug with a small print that mimics an Oriental rug. Pair it with a leather sofa and a dark wood desk for a space that is sophisticated rather than overly ornate.

Use a muted floral rug in your bedroom. Floral prints don't have to be bold and in your face. If you're decorating a shared bedroom, try a floral rug with soft colors that has a subtle design. Place a wall-to-wall area rug in your bedroom and paint the walls a deep, saturated hue so that the rug is an accent piece. Then add furniture, a solid comforter for your bed and some mixed-pattern throw pillows.

Decorate a child's room with bright floral rugs. A bedroom that is designed with a child in mind is the perfect place to really use all the colors and shapes floral rugs have to offer. For a girl's bedroom that isn't too young or too old, try a rug with flower outlines colored in with rustic orange, golden yellow and pale blue. This retro color combination can be matched with different bedding to grow with your child as her style changes.

Pick one color and keep everything else simple. No matter which room you decide to put a floral rug in, keep in mind that the other furniture and decor should be simple, so the patterns don't compete. To achieve a coordinated look, try picking out one accent color and using it around the room. For instance, if your floral area rug has green stems, try accenting the room with a solid green upholstered chair and curtain panels in the same hue.

Buy Floral Area Rugs
Back to Guides Directory