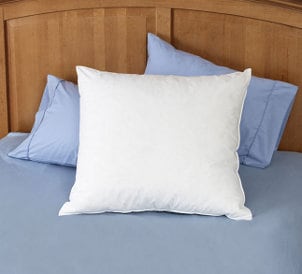 Bigger is better when it comes to making a decorating statement, and Euro pillows fit the bill perfectly. These oversized versions of trendy throw pillows are cropping up in stylish homes everywhere because they take your bed from a functional place to a sophisticated space. Euro pillows look best when placed on full, queen or king beds because of their large size. If you're unsure about the placement and use of these fun bedding options, keep reading. This guide will explain how to decorate with Euro pillows.
Decorating with Euro Pillows:

Prepare beforehand. To ensure that your decorative pillows look their best, take a minute to iron your Euro pillow shams. If you buy Euro shams and pillow inserts separately, it's important to make sure the fit is right. Oversized Euro pillow shams will look wrinkly and sloppy on your bed, so wash them in hot water and dry them in a dryer at a hot setting to make sure they fit snugly. If your Euro pillow covers are not cotton, try taking them in with a sewing machine or purchasing different inserts that will fit better.

Use a backdrop. The placement of your Euro pillows can have a big effect on the overall look of your room. If minimalist suits your style, placing neutral Euro pillows against your wall can create a makeshift headboard that keeps it light and isn't too busy. If you prefer a more intricate look, deck out your bed with an extra-high headboard. Because Euro pillows are taller than normal pillows, a high headboard will make your bed look properly proportioned. If you're already committed to a short headboard, you're not out of luck. Try laying Euro pillows flat on the bed's surface and stacking a pillow on top for a contemporary feel.

Mix patterns and colors. Whether you're planning on brightly colored Euro pillows or like the look of soft whites and greys, mixing patterns and colors lets you have fun with your bedding. If your standard pillowcases or pillow shams are a solid color, try incorporating a pattern, likes stripes or floral print, to add dimension to your room. If your sheets are printed, try using Euro pillows in an accent color with a subtle pattern woven in.

Buy Pillows
Back to Guides Directory