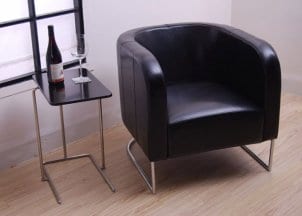 Adding classy and stylish black furniture to your bedroom or living room will give your home the update it deserves. Black furniture upgrades the look of any room instantly; however, although the color black seems to go with everything, adding black furniture to your home takes some careful planning (and consideration). You don't want to overwhelm a room by overdoing it. Read the article below to learn how to decorate with black furniture in order to achieve the best results possible.
Decorating with Black Furniture:

Have a plan for your black furniture. While you may be ready to rush right out and buy new black furniture, remember that it's important to have a plan before you buy. Make a list of the furniture you're going to buy and then draw up a scale floor plan of the room you want to decorate. Use the map to plan out where your new furniture will go. It's important that you have enough space for your new purchases before bringing them home.

Balance the black furniture. While you're planning out where your new furniture will sit, try to avoid bunching all your black furniture together. Placing all your black living room furniture on one side of a room will make your room look off-balance. Spread your black furniture evenly throughout your living room for best results.

Let in the light. Black living room furniture automatically makes a room look darker. To avoid that scenario just open the curtains and let in as much light as possible. Natural light helps to brighten a room's tone. Avoid putting black furniture in dark rooms, like a windowless or a lower basement-level room, unless you install extra lighting. A dark room makes black furniture look boring and plain.

Use contrasting colors. Since black is such a strong color, you'll want to steer away from painting your living room walls in strong colors and instead stick with light and neutral tones. The contrast will make your black furniture stand out instead of making it compete for attention with a dark wall. Painting your walls white will give you the greatest contrast possible. However, if you don't want to use white for your walls, you can still implement it by adding white pillows or white lamps to your room for a dynamic look.

Add accent pieces. Accent pieces are always an important aspect of interior decoration. You can choose to continue your black theme by adding a black framed mirror or vase to the room. Using black accent pieces will help to tie your black furniture to the room. In addition to the black accents, be sure to use brightly colored pillows or curtains to add a necessary and intriguing pop of color to your home.

Buy Furniture
Back to Guides Directory