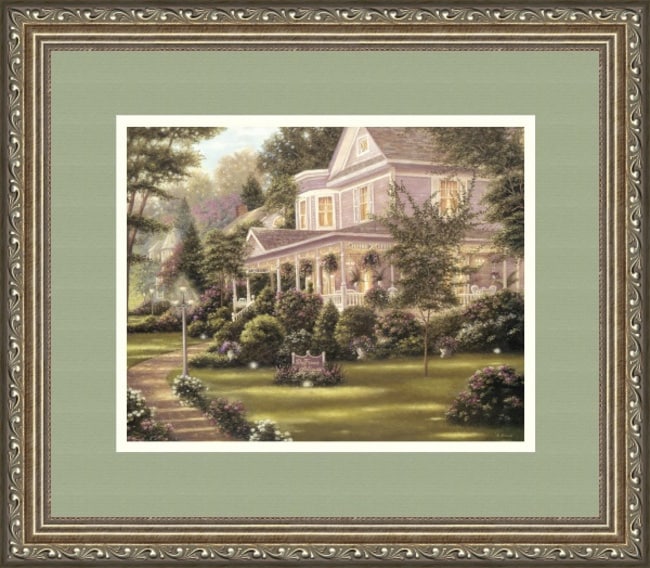 Antique prints of wildlife, plants or scenic vistas are an artistic complement to any interior design. Antique style or vintage prints in subdued colors and sepia tones coordinate with both modern and vintage decor. Don't assume the entire room must reflect an era of days gone by when decorating with antique prints. If you want, you can mix modern and antique styles by coordinating themes, patterns and colors found in the art prints with modern accessories in the room.
Decorating with Antique Prints:

Living room: Choose vintage prints to coordinate with the living room. Hang clusters of framed botanical prints in a light, airy space. Accent the room with live potted plants. Choose heavy potted plants for the floor and hang foliage with cascading vines from ceiling hooks. Repeat the leaf patterns on pillows, curtains or an area rug.

Bedroom: Contrast modern and antique decor in a bedroom with antique prints of zoo wildlife. Accent the room with modern metallic sculptures of giraffes and elephants. Coordinate with zebra printed sheets or a leopard-printed comforter on the bed. Choose earth tones represented in the art prints when considering modern window treatments such as swags or blinds.

Home office: Create a serene ambiance in a home office with antique nature prints. Prints of green rolling fields, ocean views with majestic ships or quaint English cottages create a calm feeling in a work environment. Frame the prints in wood or metal that matches the existing office furniture.

Baby's room: Decorate a baby's room with vintage advertisement prints and posters. Frame posters of early 20th century magazine advertisements for baby powder, strollers and teddy bears. Use solid-colored frames to coordinate with the baby's bedding, wall color and curtains.

Kitchen: Hang antique prints of fruit and vegetables in the kitchen. Choose prints that reflect the colors and current style of the kitchen. For a kitchen with an apple decor, select antique prints detailing varieties of apples. Antique prints of herbs are a neutral choice for a kitchen decorated in earth tones. Accent the antique prints with curtains, a table cloth or rug in a matching food theme.

Buy Vintage Prints
Back to Guides Directory