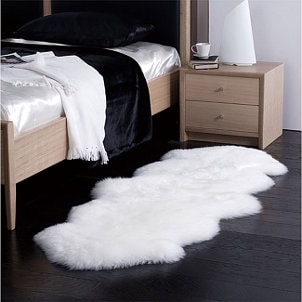 Formerly a popular option for creating a psychedelic style in the '60s, shag rugs are back in a more contemporary form. Made with pile that is longer than one inch, shag rugs are incredibly soft and add depth to your home with their uneven texture. Whether it's a shag rug made from wool, cotton or leather, try using a shag rug to make a major statement in your home.
Shag Rug Decorating Tips:

Add polish to a formal living room. Simple, solid-colored shag rugs can infuse modern living rooms with luxurious texture. For a room that looks like it was pulled from an interior design magazine, pair a light-colored shag rug with a white leather sofa, clear acrylic coffee table and plenty of chrome accents. Skip the sofa slipcover and drape a sheepskin rug over an overstuffed chair for furniture that becomes its own work of art with a chic texture and look.

Make your bedroom cozier. For homes with wood floors, a plush shag rug is functional as well as fashionable. A patterned shag rug with a simple design adds polish to solid bedding, and stepping onto a soft rug is a comfortable way to start off your mornings. A plush cotton shag rug can be placed under a solid-wood or wrought-iron bed frame to protect your floor from scratches while adding style to your room.

Create a stylish den. For cozy dens, decorate with an iconic flokati rug. Made by hand, these wool rugs are placed in cold water after weaving to fluff the fibers. Flokati rugs can be dyed any color, giving you a wide range of options when choosing an area rug. For an edgier look in your den, try a leather shag rug. Leather shag rugs offer the same high-impact texture as wool shag rugs, but won't shed.

Brighten up a kid's bedroom. Look for shag rugs in neon colors or pastel hues when you want a rug that will add a playful feel to a children's bedroom. Place a rug in the corner of a bedroom with an assortment of cushions and beanbag chairs to create a reading area that is cute and comfortable.

Buy Shag Rugs
Back to Guides Directory