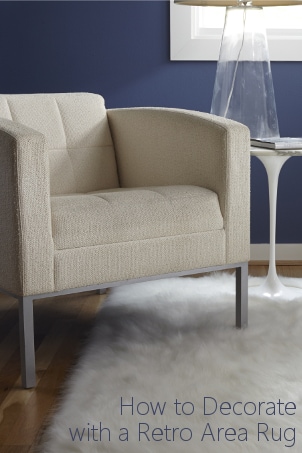 Although retro is often used to define anything old, there is a certain style that people associate with retro decor. In reference to home design from the '60s and '70s, retro means a room with shag carpets, bold repeating prints, and furniture with soft lines. Retro shag rugs and rugs with big patterns add the perfect amount of vintage feel and can be the foundation for many different room designs.
Retro Rug Decor Ideas:

Go with the retro vibe. Use your shag rug as a basis for embracing retro design by finding furniture that was also inspired by the '70s. A low couch upholstered with textured fabric looks perfect perched on a shag rug. To get the full effect of a retro room, experiment with brightly colored shag rugs that have a long pile. You may also want to look for furniture that has a round shape, like a circular ottoman or an egg chair. Finish the look with patterned wallpaper, a mid-century wooden coffee table, and a cylindrical light.

Put a modern spin on it. You can still use a shag rug to soften your home even if you prefer modern style over vintage. To make these rugs look current, search for rugs in a neutral color with a medium pile length. For a formal room, pair a white shag rug with white leather couches. Add a chrome overhanging lamp, crystal picture frames, and a large black frame to complete the look. You can also shop for rugs made from unique materials, like leather, that have an ultramodern edge.

Use a retro floral rug for children's rooms. If you want a patterned rug that won't look dated years from now, try a floral print rug with a '70s-inspired color palette that features shades of orange, bright green, yellow, and brown. In a girl's room, these rugs will look understated paired with solid-colored bedding and accessories. Look for soft retro rugs with a medium pile that will provide a soft place to play or lounge.

Use sheepskin accent rugs all over the room. White sheepskin rugs and flokati rugs have a distinctly retro feeling. Small sheepskin shag rugs can be layered over low-pile rugs, draped over the foot of the bed, or placed on chairs for an extra dash of unexpected style.
What Do You Want to Do Next?

Shop Shag Rugs
Shop Area Rugs
See All Home Decor
See All Guides
Read More Home Guides
Learn More about Area Rugs