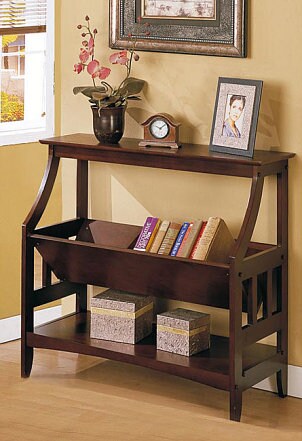 Many people give their decorative accessories a place to shine by putting them on niches, cupboards, and shelves. However, they may overlook one of the ideal spots for showcasing their favorite decorative accessories: the top of a bookshelf. Whether it's a tall corner shelf or a lower modular piece, the surface on top of a bookshelf offers a flat area to arrange art, vases, framed photos, baskets, statues, and sculptures.
Decorating Your Bookshelf:

Clear off and clean your bookshelf. Clutter can bog down a beautiful, decorative arrangement. Clean your bookshelf with an appropriate cleaner and polish or scrub it with warm water and gentle soap. Clean the back of the shelf, the bottom, the legs, and the top as well. Sort through your belongings and discard any junk before returning them to the bookshelf.

Consider colors and finishes. A fresh coat of paint on the whole bookcase can brighten the piece. You can also do a two-tone paint job, such as indigo on the bookshelf frame and periwinkle blue on the interior backing. To make the top of the bookshelf stand out, paint the ledge surrounding it in an eye-catching color. You can go shabby chic with an antique white bookshelf sporting a cornflower blue top or country with a glossy white shelf and a sunny yellow top.

Protect the shelf. If your bookshelf is tall, you can cut down on dust by laying down a swatch of fabric or vinyl that matches the measurements of the top shelf. No one will be able to see it, but it will keep the shelf from collecting so much dust.

Group objects on your bookshelf. If it is a low shelf, you can use small-sized and medium-sized objects, but a tall shelf requires larger objects that you can see easily from a sitting position. Try a large work of art, a beautiful ceramic bowl, or large figurine on the top shelf. Smaller bookshelves can feature diverse arrangements of accessories, but try uniting them by a shared element, be it color, texture, material, country of origin, or decor theme. Vary the height of the objects for more visual interest.

Illuminate the top of your decorated bookshelf. You can use miniature gallery-style spotlights directed at the objects on top of you bookshelf. For less direct lighting, try wall sconces set high on the wall or even a line of party lights strung along the top shelf of the bookcase. If you have a lower bookshelf, you can opt to set a table lamp or candles directly on the top shelf.
What Do You Want to Do Next?

Shop Statues & Sculptures
Shop Accent Pieces
Shop All Decorative Accessories
See All Guides
Read More Home Guides
Learn More about Home Decor