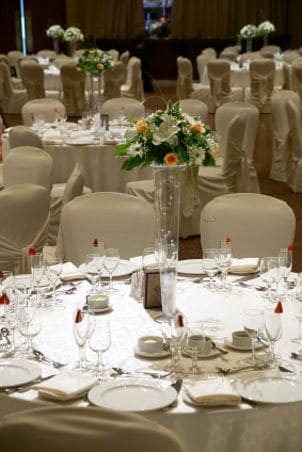 Things You Need:
Table measurements
Linens
Flowers
Candles
Fruit
Photos
Balloons
Flower petals
Lace
Ribbon
Tulle
Table decorations at a wedding help set the mood and express the style of the wedding couple. From the tablecloths and napkins to the place settings and centerpieces, wedding table decorations quickly convey the atmosphere of the ceremony and reception, whether colorful and untamed or subdued and simple. If you are looking to save money or put your own personal stamp on your wedding decorations, you might consider making your own linens and centerpieces. With some basic crafts and sewing experience and a few supplies, you can create table decorations that will be unique and affordable at the same time.
Decorating Wedding Tables:

Your venue can help you decide on a decor theme. You probably already have some idea of how you want to decorate your wedding tables, as choosing a venue and making other big decisions are the first wedding planning steps to making other decor choices. In most cases, a big, fancy location will go best with formal table embellishments, while simpler venues can be decorated similarly. Follow a general theme when shopping for and assembling table decorations for a uniform, professional look.

Visiting your venue and checking out tables can help you determine the size and style of linens and centerpieces. Many venues will have table measurements on file, meaning you will just need to call and get these numbers in order to decide on the size of your table decorations. If this is not possible, simply stop by your venue and measure the tables yourself. These measurements will help you when selecting your linens and creating your centerpieces. Visiting your venue or using pictures to guide you can also help when tailoring the style of your centerpieces to your location.

Linens are a big part of table decoration. When you are planning your wedding table decorations, you need to first consider your table cloths, napkins and napkin rings. These items can be rented from a linen service company, added to your bill at the reception venue or purchased in bulk. They can also be sewn quite simply and affordably using wholesale fabric and craft items. Choosing the right color and fashion of linens will lend consistency and style to your tables.

You have many options when selecting centerpieces for your wedding tables. Flowers are a very popular choice for wedding table centerpieces, and these are often fashioned into elaborate arrangements. You can make beautiful floral centerpieces with bulk flowers and a few craft items. Silk flowers can be used instead if you prefer and will help save money and time as they can be made into centerpieces weeks or months in advance. Candles, fruit, photos and balloons also make nice wedding centerpieces and can be embellished with flower petals, lace or ribbon for a professional style.
Tip:

Don't forget about side tables and unity candle podiums. Adding linens and centerpieces or even just a simple swirl of tulle to tables that hold photos and other accessories, such as the guest book, can add a lot to your wedding decor.

Buy Wedding Planning
Back to Guides Directory