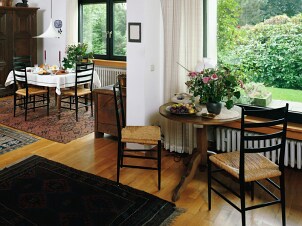 The warm, inviting feeling of country home decor makes it an enduring design trend. Some people favor the more rustic side of country decor, integrating wooden furniture with distressed surfaces and flea market finds. Others tend toward the country cottage look of cheery primary colors set against white accents. The French country look has a more subdued effect, combining faded cornflower blue, sage green, mustard or antique white with black accents. Whatever style of country home decor you prefer, take a look at the following tips for some inspiring decor ideas.
Decorating with Country Style:

Leave those four white walls behind for something brighter and more uplifting. Try a new neutral, such as sunny yellow or antique white. For a more sophisticated backdrop, slate blue adds a refined coolness, while a very pale rose emulates the effects of natural light spilling into the room.

Invest in focal point architectural elements or pieces of furniture. Many country looks incorporate natural elements and finishes. A stone wall with a stone fireplace radiates farmhouse country. You can emulate this look on a simpler scale by using stone finish on tile back-splashes, tabletops or counters or by lining a windowsill and fireplace mantel with river stones. Wooden furniture with light to medium stain or antique whitewash finish brightens country interiors.

Plan your layouts. Open and breezy spaces allow foot traffic, conversational seating arrangements and integrated indoor-outdoor areas. Skylights or solar tubes provide bright patches of light to dark interiors. French doors and picture windows bring garden views to people inside.

Use textiles to soften surfaces, adorn walls and add contrasting colors throughout the space. Cafe-style curtains in gingham or floral give a room an American country touch. Patchwork quilts can cover beds, quilt racks, rails along stairwell landings or blank walls. A wrought iron bed frame or day bed gets a mellow look with the addition of a mosquito net draped around it or a floating canopy of sheer fabric suspended overhead.

Accessorize with country decor classics. Wicker baskets in various sizes and textures provide excellent organization and storage. Bright throw pillows in lightweight cotton can connect various colors and patterns in the room. Rustic wood frames look perfect around favorite artwork and framed photographs.
Country Decor Tips:

Make the look your own by including do-it-yourself projects in country decor.

Avoid matching every textile and accessory. Country style is eclectic.

Buy Home Decor
Back to Guides Directory