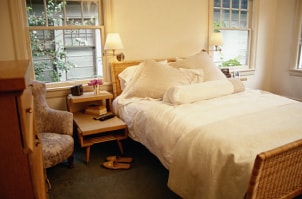 Things You Need:
Lighting
Window treatments
Window treatments
Storage and organization solutions
Refreshing the paint, switching out textiles or using different furniture hardware can quickly transform a plain bedroom into a room that reflects your unique style. For a more comprehensive bedroom decor makeover, counteract the coolness of plain white walls and bland overhead lighting with a new coat of paint, furniture, accessories and finishes that create a cozy feeling in your bedroom.
Decorating a Cozy Bedroom:

Eliminate clutter in your bedroom. Nothing kills home decor like surfaces filled with random objects and stacks of papers. Many bedroom storage and organization solutions are available, and they are often as decorative as they are functional. People with small bedrooms may need to consider which items they can store elsewhere. For example, extra bedding can stay in a hall closet or box in the basement instead of in the bedroom closet.

Choose a palette of cozy colors. Those four plain white walls and white ceiling do nothing to create a cozy bedroom decor. Try a pale gold tone for a designer look, poppy orange for a bright splash of color or rosy cream for a classic tone with some added warmth. Faded earth tones and natural finishes provide a warm eco-design style. For a cozier effect, paint your ceiling a slightly darker shade than your walls.

Invest in a focal-point piece of furniture for cozy bedroom decor. Try a wooden shelf in a warm medium or dark stain. Switch out new hardware for oxidized metal, painted wood or even knobs and handles wrapped in twine or fabric.

Soften surfaces with textiles. Soft fabrics in eye-catching colors, patterns or textures can make a sterile bedroom feel cozier. Place a fluffy rug or a bamboo floor mat near the bed or a window to create a more textured surface than plain flooring. Brighten a windowsill with cafe-style curtains in translucent cotton fabric to allow natural light into the room. You can add a simple bed canopy over the bed for a feeling of romance.

Accessorize bedrooms with pieces that add a homey touch. Green, leafy plants around windows and door frames bring the warmth of nature inside. Adorn a wall with art or a wall hanging to add more depth and visual interest to the bedroom.
Bedroom Decor Tips:

Make the look your own with framed photographs and a few shelves full of your favorite books.

Fluorescent lighting can flatten the dimension you are trying to create. Supplement overhead lighting with floor lamps, table lamps and candles.

Buy Home Decor
Back to Guides Directory