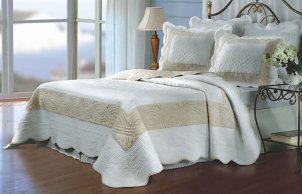 Things You Need:
Paint
Painting supplies
Cleaning supplies
Window treatments
Comforter set
Screwdriver
Are you tired of going to sleep in the same boring bedroom every night? Or maybe you'd like to decorate your guest room? In this article, you'll learn how to decorate a bedroom without having to spend a lot of money. Whether you're decorating a bedroom for the first time or redecorating a pre-existing room, take a look at these steps that will both save you money and get your room looking fresh again.
Decorating a Small Bedroom:

Paint the bedroom. Painted walls provide the backdrop for the bedroom palette of colors and set the mood for the entire room. Purchase interior paint in a soothing color: Paint colors in pastels, beiges and blue are particularly relaxing, although brighter colors can drastically improve the aesthetic appeal of a dull room.

Clean the room thoroughly to provide a fresh base for your decorating project, and then remove any furniture from the room that could interfere with painting. If furniture is too big, cover it with a tarp or old sheet. Prep the walls by following the paint manufacturer's instructions. Use masking tape to define borders and to protect windows and electrical outlets. Properly ventilate the room to avoid a build-up of toxic chemicals during painting.

Use a trim brush to paint window frames, door frames and trim moldings. Apply paint to larger areas with a roller brush. Sponge painting adds an interesting element of texture to the walls without adding much additional cost.

Allow the room time to air out and dry. Paint can leave a somewhat toxic smell. Open windows if possible and allow the smell to dissipate before continuing.

Paste a wallpaper border or paint a stenciled border around the bedroom. Choos one that enhances the other elements of the room.

Install new curtains. After your newly painted walls dry, continue your bedroom makeover by installing new window treatments.

Select curtain colors and patterns that support your theme and relate to your wall colors.

Cafe curtains are less costly than full-length curtain panels and are the perfect size for small windows.

Shear curtains create a soft, elegant look when used alone and cost less than heavier curtains.

Avoid purchasing costly rods by choosing drapes that fit your existing hardware.

Venetian blinds are available in many colors and materials and can serve double-duty in place of curtains and shears.

Watch blind prices and options carefully; they can increase the budget quickly.

Whether you want curtains or blinds, pick last year's styles, colors and materials to save money.

Add new bedding. Find a comforter set that complements the new colors of your paint and curtains. In this area, spend as little or as much as you'd like. Remember that you can always replace the comforter set with a new one after a few years.

Start with a comforter set that includes the comforter and matching pillow shams; all-inclusive bed-in-a-bag sets offer an easy and affordable way of making a beautiful bed.

Try to budget for a new set of pillows.

Some bedding sets include matching curtains.

Add variety to the bedding -- new sheets, decorative pillows and throws -- over time as your budget allows.
Tips:

With a few products and a little time and effort, you can soon enjoy a newly renovated bedroom for only a few hundred dollars or less. To make your bedroom makeover even more affordable, make sure to include an online shopping trip to Overstock.com in your plans. Overstock.com has discount prices on a large selection of high-quality curtains, bedding, bedroom furniture and decorative accessories that will give any bedroom a brand new look.

Buy Bedding
Back to Guides Directory