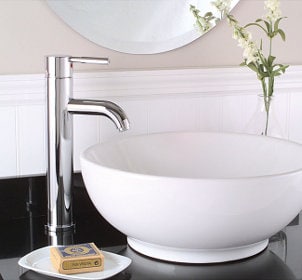 Finding the right bath decor for a half bath involves thought and creativity. Because a half bath is typically designated for guests, it is important for it to be pretty as well as comfortable. When decorating a half bath, keep in mind that the bathroom decor should not interfere with the functionality of the room but enhance it. With a little work and the right bath accessories, a half bath can be both a well-decorated and fully functional room. Keep reading to learn how to decorate a half bath.
Decorating a Half Bath:

Shine on. Recessed lighting takes up less room than dangling fixtures, and because it takes up no extra space, this lighting makes the half bath seem larger than it is.

Think pale. Lighter colors on the walls make a half bath look larger. Pastels and neutrals are perfect for playing up a small space. Light-colored wallpapers work as well.

Keep it simple. Because of the lack of extra space, focus on putting the necessary items in the bathroom and then decide what to add. Don't try to cram too much into a little space. Hang a few pictures on the wall, but again, don't go overboard. Clutter is not pretty.

Save space. Since there is not much space in a half bath, try installing shelving to accommodate any extra toiletries. The shelves can also hold small trinkets and photos that add interest to the room. If you don't have floor space, consider hanging up a shelf to store toiletries without taking away from your bath decor.

Go for details. To dress up a half bath, look at the smaller details. Upgrade the hardware and fixtures, such as the drawer and cabinet pulls and other bath accessories, as well as the faucet. Giving your bath decor a small overhaul can instantly brighten up the space and make it more modern looking.
Tip from Overstock.com:

If you want your half bath to add to a cohesive theme of the entire house, use the rest of the house as a guide for your bathroom decor choices. Choose the same paint color as the surrounding rooms and a complementary color for the bath linens.

Buy Bath Decor
Back to Guides Directory