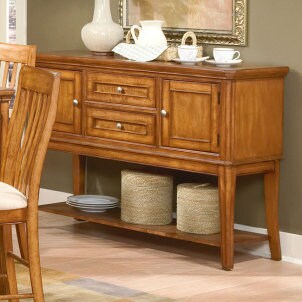 With a sideboard or buffet in your dining room, you'll always have an easy way to serve food to a large group. And while you could simply set the food out, a special occasion begs for special decorations. As you plan your party menu, create a layout for your buffet that will feature the food as well as allow room for decorations. Then, take a cue from the theme of your event and find pieces that will enhance the party mood and add color to the room.
Buffet Table Decor:

Set the foundation. A tablecloth will protect the surface of your dining room furniture as well as establish a theme. When celebrating a graduation, you could use school colors. If you're celebrating a wedding or bridal shower, use tablecloths in the wedding colors or layer pretty lace tablecloths. Add pieces that will allow you to have food, dishes, and silverware at different levels. Crystal cake stands, china platters, and polished silver vessels will give the event an elegant feeling. For a shabby chic or vintage feeling, use wooden crates, Mason jars, and milk glass pieces. A rustic vibe is easy to achieve with wicker baskets, wooden cutting boards, and metal buckets.

Add lighting for drama. A table lamp at the center of the buffet or a set of two, with one at each end, will add visual interest as well as functional light. Candles add a cozy feeling and look beautiful, but avoid scented candles that may clash with the fragrance of the food, and avoid using candles for children's parties.

Use food as part of the decor. Prepare an edible centerpiece, like a watermelon boat full of cut fruit. Topiaries of fresh fruit and chocolates or vegetable trays carved to resemble budding flowers are beautiful as well as functional.

Don't forget to have a place for drinks. Unless you have a separate bar for your event, place drinks at the end of the buffet line. For bottled drinks, a large bucket or tub with ice will keep drinks cold and easy to grab. Other drinks can be served in pitchers, a classic punch bowl, or beverage dispensers.

Add personal items. If the celebration is focusing on one or two people, place framed photographs of them and other memorabilia on the buffet. This works well for an anniversary, a birthday party, a graduation dinner, or a bridal shower. Use photos that show the honoree over time, with the oldest photos near the beginning of the spread and the most recent photos at the end. This will generate conversation as guests move down the buffet line, which is especially helpful when all the guests haven't met previously.

Buy Buffets
Back to Guides Directory