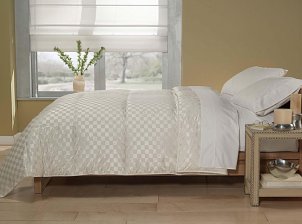 Small bedroom spaces don't have to feel cramped. They can be an opportunity to get creative with the space you do have. Bedroom furniture can multitask to provide more storage. The colors you choose can make your bedroom go from looking small to looking fabulous. The placement of your bedroom furniture, as well as the style, can have a huge impact on the look of your room. Following a few simple design tips can transform your small space into a stylish room you can be proud of. Look below to learn how to deal with a small bedroom space.
Instructions:

Choose a light color. Choose a light, calming color for the walls of your room. Stick with the same color family for the trim work.

Maximize storage space. Use a multipurpose bed to maximize your storage space. Trundle beds with areas that can be used for storage work well. Queen-size beds with bedskirts can hide under-bed storage containers, as well.

Make the bed the centerpiece. Make the bed the centerpiece of your room by placing it against the center of the back wall, unless there is insufficient room to walk around both sides.

Think about a headboard. Headboards with storage space can work in place of nightstands or other bedroom furniture when space is at a true minimum. These headboards often feature bookcases or sliding doors to hide the inside contents. In addition, you may place a nightlight on top of this type of headboard.

Create balance. Balance your bedroom set by placing the dresser on the opposite side of the room of your bed. Choose a tall dresser as opposed to a long one, which will draw the eye upward and make the room look bigger.

Work with curtains. Place curtain rods 84 inches above the floor. Choose curtains a shade darker then the wall color in your room. Avoid curtains with patterns and keep them open to give the illusion of more space in the room.
Tips:

To use the most of your small space, avoid placing your bed in a corner.

View All Bedroom Furniture
Back to Guides Directory