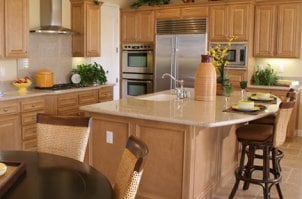 Things You Need:
Energy-saving appliances
CFL Lightbulbs
Calendar or dry erase board
Electricity costs are constantly on the rise, but the kitchen is an excellent place to cut down on your power bill. With just a few simple steps, you can easily save money every month. Plus, you can also decrease your footprint on the environment. Check out these money-saving steps that will teach you how to cut your power bill in the kitchen.
Save Money in the Kitchen:

Don't waste a second. Make sure your food is ready to place in the oven as soon as the oven is finished preheating.

Write schedules. Write schedules on a dry erase board on the fridge. This will help you keep track of when everyone is home, so you can avoid heating up the oven more than necessary. A calendar can also accomplish the same purpose.

Use the oven less. Prepare meals that don't require the oven on hot summer days. Buy produce and ingredients that can be served straight from the fridge. You'll save money by not heating up the oven, and your air conditioner won't have to battle the heat from your baking and cooking.

Don't leave the fridge open. Avoid opening the refrigerator for extended periods of time. An open door allows cool air to escape, forcing the refrigerator to use more electricity. Think of what you are looking for prior to opening the refrigerator or the freezer.

Unplug unused appliances. Unplug coffee makers and toasters when not in use. These small kitchen appliances use electricity even when they are turned off. So-called "standby" appliances make up 10 percent of your overall electricity bill.

Be smart. Turning up the temperature on your refrigerator can cause potentially harmful bacteria to develop in your food. Don't cut costs at the expense of your health and safety.

Use CFL bulbs. Replace your kitchen lighting with compact fluorescent lighting (or CFL) bulbs. Not only do these bulbs burn less energy, but they also last much longer than a regular bulb.

Make use of extra energy. When you do use your kitchen appliances, make use of the heat they generate. Open the oven after you've turned it off and let the heat flow into the kitchen. Do the same thing with your dishwasher. Skip the drying step by letting your dishes air dry instead and always wash full loads.

Moderate temperatures. Keep your refrigerator temperature at 37-40 degrees Fahrenheit and your freezer at 5 degrees Fahrenheit for maximum efficiency.

Use energy-saving models. If you're looking to replace your appliances, keep an eye out for energy-saving options and models that are certified with an Energy Star. Replacing an old refrigerator with one of these models can reduce refrigerator energy use by as much as 40 percent. Some newer models come with energy-saving features like better insulation and power-saver switches, which can save you money.

Buy Kitchen and Dining
Back to Guides Directory