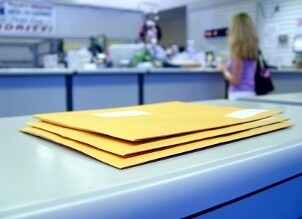 Things You Need:
Adhesive label sheets
Printer
Computer
When you need to ship something, it's not always convenient to go to your local post office. You can save time and avoid shipping errors by doing your mailing from home. And organizing and processing mail for your home office is a lot easier when you use custom labels for shipping. With your inkjet or laser printer, you can create your own address labels for letters and packages and avoid the long lines at the post office.
Creating Address Labels:

Choose labels for your printer. Use labels that won't smear or smudge the ink during printing. Address labels come in multiple sizes. You can find simple mailing and return address labels (1 to 2 inches long) or large shipping labels for including tracking information, barcodes and other data. Most inkjet and laser printers will accept 8.5-inch x 11-inch sheets of address labels. If you want to use odd-shaped sheets, be sure that your printer can handle that paper size.

Use a program to create the labels. You can use your computer to print mailing labels from a shipping company you plan on using. But if you only need a name and address on a label, you can use your computer's office software to create custom shipping labels.

Look for menu or toolbar options in your office program for sections labeled as "shipping" or "mailing." You may find several templates for making address labels that you can match to your label size. Otherwise, you'll need to enter the label size manually.

If all your labels are identical, you will only need to copy and paste the same data into the space for each address label. Otherwise, you can enter a different name and address into each space.

Add some personal flair to your address labels with small clipart, borders or other embellishments.

Print a test page. You don't want to print on the wrong side of the address label sheet, so print a test page.

Use a pen to mark the top right corner of a regular sheet of paper and run it through the printer. This will help you decide how the address label sheet should be fed into your printer.

Compare the location of the addresses on the test page to the location of the address labels on the adhesive sheet to make sure they line up.

Print your address labels. Print your address labels one sheet at a time and set each sheet aside to dry. This will keep the ink from smudging.

Buy Address Labels
Back to Guides Directory