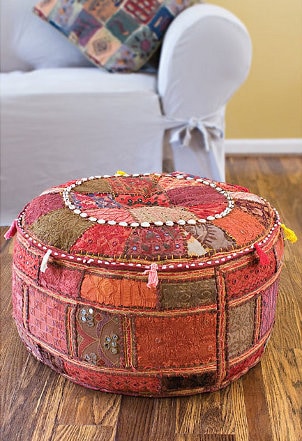 A collection of treasures from around the world can make your home feel more interesting and profess your love of travel. Even if you haven't had the opportunity to visit the pristine beaches of the Caribbean and the architecture of Roman cathedrals, you can still create a global look that relies on decorative accessories found around the world.
Creating a Well-traveled Look in Your Home:

Look for handcrafted items while shopping online. To get the most authentic items for your home, look for accessories that are made by artisans in another country or region and have them shipped to you. Many of these items will include a biography on the artist to help you get a feel for where your item is coming from.

Research the decor of the area. If there is a place that is particularly high on your list of dream destinations, find out a bit of information on the traditional decor of the area so you can bring a little piece of it into your own home. For instance, Moroccan homes often feature bright jewel tones and intricate patterns specific to the region. With this information, you can look for porcelain garden stools with the same design or brightly colored tapestries to echo that vibe.

Find a unifying theme for your home. Whether you love the elegance of a Parisian cafe or want to experience the adventure of an African safari daily, try to have a focus for your collection of accessories. To do this, keep a color scheme and design style in mind as you shop for global accessories.

Mix global accessories with items you already have. To get the most out of the items you choose, use them to complement other items you already have in the room. If you have a great pair of bookends, try placing a few antique copies of books by famous British authors, like Chaucer or Dickens, between them. Replace your coffee table with a colorful pouf ottoman from Morocco that will perfectly accent your leather couches. By integrating new accent pieces into your old décor, you'll find a style that suits your personality.

Buy Accent Pieces
Back to Guides Directory