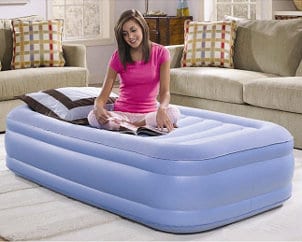 Air mattresses have changed a lot. The term "air bed" is commonly used now, maybe because air mattresses really have changed into something that rivals your very own bed in terms of comfort. While not many people are willing to make an air bed a permanent piece of bedroom furniture, they still offer plenty of uses, and you'll never regret having one or two of them tucked conveniently in a closet. If you're unsure about whether or not you want to buy an airbed, keep reading; you'll find four uses for air beds to consider that will help you convince yourself that you need an air bed.
Four Air Bed Uses:

As a guest bed: Overnight guests are great, until the "overnight" part rolls around and you have to find a bed for your guests. If you don't have a guest bedroom or if you have more guests than extra beds, you will appreciate having a comfortable, supportive airbed that you can pull out and inflate in minutes. Add a set of nice sheets and a warm comforter and your air bed will provide your guests with a wonderful night's rest.

For movie night: A fun, relaxing movie night where you forget about the couches and throw a bunch of blankets on the ground is a blast until you wake up the next morning and your back aches from lying on the hard floor. Have fun and keep your back from aching by putting down an air mattress or in front of the TV. Air beds are easy to set up, and they're as fun for kids as they are comfortable for adults.

For camping: Spending time in the outdoors is rejuvenating and relaxing. Spending the night on the cold, hard ground is not. With an air bed, you can enjoy the sights and smells of the wilderness and an evening around a campfire and then retire to a nice, soft air mattress. Toss an airbed into to the back of your car the next time you go camping; you won't regret it.

When traveling: Traveling can be exciting, but the beds in hotels and guest bedrooms are of varying quality. Bringing an air bed along can ensure that your nights are restful, which will allow you to wake up refreshed and ready to enjoy the day's adventures. Pack an air bed in your suitcase and then simply plug in the automated air compressor when you get into your room. By the time you hang up tomorrow's outfit and brush your teeth, your air mattress will be ready to go.

Buy Air Beds
Back to Guides Directory