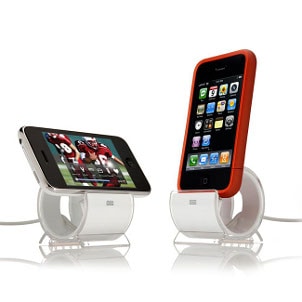 Digital music, movies and photos free you from the constraints of having physical media such as CDs and DVDs to enjoy your entertainment; iPods allow you to bring put hours of video and days' worth of music into a portable device. All of that media storage capacity makes iPods the perfect media libraries to connect to your TV and sound system. Below are a few iPod accessories with options for connecting your iPod to nearly any media center.
Connecting Your iPod:

A/V cable connections: All iPods feature a 3.5 mm headphone port. This port can be used to send audio data from iPods to your media center through an A/V cable with a 3.5 mm jack on one end and RCA jacks on the other end. Simply plug the cable into your Apple iPod and then connect the red and white RCA connectors to the back of your home theater, stereo or even your TV. This method won't charge iPods, however.

FM transmitter: Audio signals can be sent wirelessly from iPods to FM radios through an FM transmitter. IPod owners often use this connection method with car stereos because no wiring is required. Just connect you iPod to the transmitter, set the FM frequency and tune your radio to that station. Your iPod's audio will come through on your car's radio. This method can charge your iPod if you have the proper transmitter.

Auxiliary headphone input: Your iPod can connect with a double-ended 3.5 mm cord if your media center has an auxiliary, or line-in, input. The cord connects the headphone jack on your iPod directly to the line-in socket on the media center receiver. This is an inexpensive way to connect MP3 players to nearly any media center.

Third-party iPod dock with remote control: An ideal setup for iPods on your home theater or stereo system is to use an iPod docking station with a remote control. You simply slip your iPod into the docking station, which both charges your MP3 player and plays music from it simultaneously.

Interface cable to USB connection: Some stereos, home theater receivers and even TVs include a USB port which may be compatible with certain iPods. This method will play music and display photos, but it may not play video.
Tip:

Only certain iPods support TV output. If your iPod model supports TV output, you should be able to use the universal iPod docking station or iPod composite A/V cable to get video from your MP3 player to your TV or media center.

Buy iPods
Back to Guides Directory