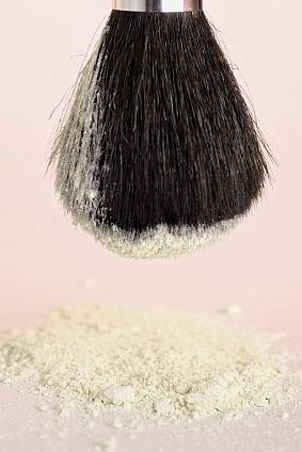 Mineral makeup gives you the look of traditional makeup without the unnecessary fillers and additives. Its light texture offers the feeling of wearing no makeup at all while retaining full coverage. Choosing the right mineral makeup can help to give you the look you want and simplify your beauty routine. Use our tips to choose the best mineral makeup for your collection.
Comparing Mineral Makeups:

Consider various brands. Many makeup brands are now offering mineral powder makeup. Different brands offer a variety of ingredients, formulations and products. Some brands focus on being eco-friendly and creating natural makeup, while others put an emphasis on their range of colors and powder foundation varieties. If you like multiple mineral makeup brands, consider buying powder foundation from one mineral cosmetics brand and eye shadow from another to get a feel for the products.

Familiarize yourself with ingredients. Mineral powder makeup products can contain a variety of ingredients. Titanium dioxide and zinc oxide are common minerals for mineral makeup. Some mineral makeup products might contain non-mineral ingredients as well. Individuals with sensitive skin may want to avoid mineral makeup that contains aluminum powder, alcohol, talc or parabens and opt for natural makeup with gentle minerals.

Shop starter kits. If you are ready to dive into the world of mineral makeup, you might consider purchasing a starter kit. Many mineral makeup brands offer starter kits that include the makeup essentials, brushes and usage instruction. Mineral starter kits often offer mineral foundation and a variety of mineral cosmetics. These kits are tailored toward various skin tones so that you don't have to worry about matching up individual products. Starter kits can be basic or advanced, so you can choose the kit that will benefit your beauty routine the most.

Read reviews and ask friends. Chances are that you have a friend who is already wearing mineral foundation and cosmetics. Asking your friends for their suggestions and reading online reviews will help you choose mineral makeup products and brands that are perfect for you and well worth the money.

Buy Makeup
Back to Guides Directory