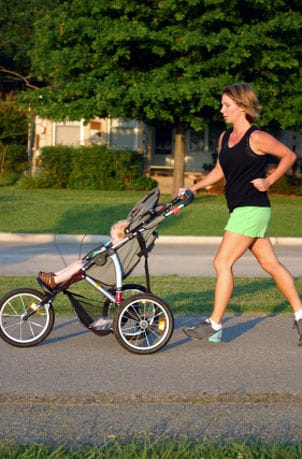 For parents who run, Jogging strollers are a great investment. Jogging strollers allow parents to get their work-out without needing childcare, and they give kids a chance to be outdoors at the same time. Purchasing a jogging stroller requires a little investigation and an assessment of specific requirements. By comparing jogging strollers, you can find the perfect stroller to meet your needs while providing your children with a safe and comfortable place to ride along.
Comparing Jogging Strollers:

Assess your running style. Jogging strollers can be used specifically for road running, or they can be engineered for running on trails and rough terrain. Road jogging-strollers have smooth wheels that easily roll on pavement, while off-road jogging-stroller tires are bumpy to provide traction on dirt and rocks. Some jogging strollers are made for many different types of terrain, while others are specifically made for one type. In addition, some jogging strollers are made for sprinters, while others are made for light joggers. These will be important considerations when you are shopping for a jogging stroller.

Inspect the stroller's seating. Jogging strollers need to have a seat for each of your children. There are simple jogging strollers with just one seat, and there are jogging strollers with seats for multiple children. Seats should be safe and comfortable, with top-notch safety belts. Jogging stroller seats can also have cup-holders, built-in blankets and other comfort and safety features.

Consider size. The size of your jogging stroller will depend partly on the size of your family. You should also consider location when choosing the size of your jogging stroller. Will you be taking it indoors or anyplace where space is limited? Be sure that it won't be too wide to navigate through crowds and doorways. Also, keep in mind that you will need to store the jogging stroller when not in use, so more stroller than you actually need may not be desired.

Watch out for safety. Jogging strollers have advanced safety requirements due to their intended use. Jogging strollers should have a brake on the handle to keep them safe on steep hills. Safety restraints are necessary when using a jogging stroller, and you should make sure that restraints are the correct size for the child by checking weight restrictions and adjustability. In addition, look for wheels with plenty of traction and a wide wheel base for stability.

Take features into account. Some jogging strollers are fully equipped while others are more basic. Storage is convenient for longer runs or for outings with the kids and comes in a variety of ways. Rain covers are great for running in the elements, since they protect little ones from rain and snow. Lightweight jogging strollers are ideal for petite parents, and strollers with easily reclining seats keep children comfortable.
Warnings:

Most jogging strollers require that the child be at least six months old in order to ride safely. This is due to an infant's head and neck support requirements, as well as general safety. Consider this carefully when comparing jogging strollers.

Buy Stollers
Back to Guides Directory